Comic Strip Review: Kill 6 Billion Demons 1 by Tom Parkinson-Morgan
Disclaimer:  I received this volume as a Goodreads giveaway for the purpose of writing this review.  No other compensation was requested or offered.
Post-graduate student Allison Ruth and her boyfriend Zaid are attempting to have sex for the first time.  But the usual awkwardness becomes a non-issue when demonic-looking knights invade Allison's dorm room and kidnap Zaid.  Their apparent leader jams a jewel into Allison's forehead that…expands her consciousness?  When her vision clears, Allison doesn't know where she is, but it's certainly not Earth!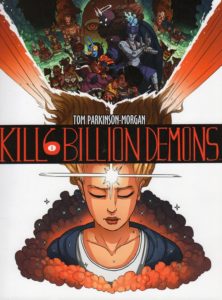 According to "82 White Chain Born in Emptiness Returns to Subdue Evil", an angel (approximately) who becomes the closest thing Allison has to an ally, this world is Throne, the center of the Multiverse, and used to be Heaven (approximately) before the gods went elsewhere.  Now Throne is a wretched hive of scum and villainy, infested with demons, demiurges and less savory beings as ganglords and shady guilds squabble over territory.
The gem embedded in Allison's forehead turns out to be a powerful key, which makes her a valuable prize ripe for the taking.  But Allison isn't at all keen on what anyone else wants for her.  She wants to be reunited with Zaid, go home, and have her life make sense again.  Not necessarily in that order.
This is the first collected volume of the webcomic, which can be found at http://killsixbilliondemons.com/comic/kill-six-billion-demons-chapter-1/   It covers the first few chapters, up to about the point Allison finally gets her head together some and decides to take her own actions instead of being just dragged around from one madcap situation to the next.
The setting (which takes aspects from Hinduism, Zen Buddhism and many other sources) allows the creator to stretch his imaginative muscles with bizarre backgrounds and distinctive non-human characters.  Allison undergoes several appearance changes herself, with the one consistent feature being her wide-open eyes, giving her a perpetually startled appearance.  (To be fair, most people would be perpetually startled under the circumstances.)  The one flaw with this being a print edition is that some of the larger spreads wind up having explanatory tags in  tiny font, so you may need a magnifying glass for full enjoyment.
Actual plot is thin on the ground, as Allison is only interacting with other characters in chases, confrontations or brief breathing spaces–we're introduced to over a dozen characters who seem like they'll be important to the story later, but right now we just have names/job titles/distinctive appearances.
Allison comes across rather shallow, but again this is excusable under her extreme circumstances; I've read ahead, and she gets more interesting.  In this volume, the interesting people are White Chain, who holds on to their (angels are agender, officially) ethical standards as much as possible even when circumstances require a far lower bar for what's acceptable; and Cio, a cynical blue-masked demon who used to be a powerful master thief but has been depowered and now works as a bookkeeper in a brothel (until she quits to help out Allison…for her own reasons.)
While there's quite a bit of discussion of sexual topics, and some non-graphic nudity, there's no on-camera sex.  Lots of violence, though, some pretty graphic.  Some rough language as well.  Every so often there are text pieces that tell stories from the background mythology; these don't always have standard endings.
Recommended for fantasy fans who don't mind that much of what's going on is confusing and won't make sense until much later.  Yes, you can read it for free on the internet, but cash infusions from the print version help the artist keep creating.