Book Review: Rad Women Worldwide by Kate Schatz
Right up front, I have to say that the title is the most annoying thing about this book.   Did anyone ever use "rad" as an adjective unironically?  That said, "radical" is not an unfair term to apply to many of the women whose short biographies are written in this volume.  There are forty stories set around 30 "countries", starting with Enheduanna of Mesopotamia, the first named author that we have records of, and wrapping around the globe to Emma Goldman, born in Russia, anarchist and advocate for worker's rights.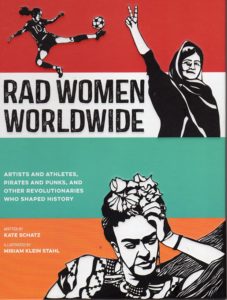 This is a sequel to Rad American Women A-Z by the same creators; the greater scope allows them to have more variety.  There are scientists, athletes and entertainers, politicians and even a princess!  The book is written for middle-grade girls, but some of the subject matter may be difficult for more sensitive readers.  (A couple of these biographies moved me to tears.)  Many of the women covered I had heard of before, but a few were new to me.
The papercut illustrations by Miriam Klein Stahl give the book a distinctive, rough-hewn look; it also ties the appearance of the volume together better than a mix of photographs and paintings might have, as there are both historical and contemporary women covered.
This book also wears its politics on its sleeve, obvious in the selection of women to write about.  Politically conservative parents might find it uncomfortable that Kasha Jacqueline Nagabasera (fights for gay rights in Uganda) and Buffy Sainte-Marie (anti-war activist) get full entries while such right-wing icons as Margaret Thatcher and Mother Teresa don't even make the 250 honorable mentions in the back.  The poem about "the stateless", refugees, exiles and others torn from their homelands includes the line "No human being is illegal."
As is common in collections of short biographies, only the highlights of any given woman's life are included, and edited according to the author's intent.  Many of these women were controversial during their lifetimes, and some of them are still controversial now.  A reader who takes a particular interest in one of the subjects would be well advised to seek out more complete biographies.  I've previously reviewed biographies of King Hatshepsut http://www.skjam.com/2016/01/20/book-review-the-woman-who-would-be-king-hatshepsuts-rise-to-power-in-ancient-egypt/ and Queen Lili'uokalani http://www.skjam.com/2014/02/21/book-review-lost-kingdom-hawaiis-last-queen-the-sugar-kings-and-americas-first-imperial-adventure/ , for example.
I expect that this book will end up in  a lot of elementary school libraries.  I'd also recommend this volume to parents of middle-grade kids (yes, boys too, to go with their many books about famous men) with the caveat (or bonus!) that you might want to sit down with them to discuss some of the topics that will come up.
Disclaimer:  I received a copy of this book from Blogging for Books for the purpose of writing this review.  No other compensation was offered or requested.