Comic Book Review: Sherlock Holmes Mysteries Volume One written by Martin Powell, art by Seppo Makinen
Sherlock Holmes and his good friend Doctor Watson are on the trail of Professor Moriarty, but they've just missed him.  The Napoleon of Crime has realized that the world's first consulting detective is more difficult to deal with than he ever imagined, and has a new plan.  It involves a trip to deepest Rumania, and a treacherous alliance with a certain nobleman who has dwelt there a very long time.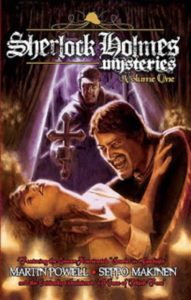 Now Holmes must grapple with something he had heretofore deemed impossible–the supernatural!  Dracula and Moriarty have unleashed a plague of vampirism on London, and even the help of Abraham Van Helsing may not be enough to turn the tide.
The script for this comic book series was developed by Martin Powell during the independent comics boom of the 1980s.  He shopped it around, finding no takers until Malibu Comics (RIP) took a chance and assigned an artist to it.  Both the Dracula-related story "Scarlet in Gaslight", and the followup "A Case of Blind Fear" which takes elements from H.G. Wells' The Invisible Man, were well-received, and they've gotten several reprints, the most recent from Moonstone Books.
Mr. Powell dug deep into the Holmes canon, even while violating one of its primary rules.  His Holmes is vulnerable, retreating into seeming madness at one point when his worldview shatters.  (He's able to handle Griffin's science-induced invisibility much better.)  But fear not, Holmes is soon back on form.
The centrality of the Holmes part of the stories does excise many of my favorite characters from the books that are being crossed over.   This is especially a pity in the case of Mina Harker, whose modernity would have clashed nicely with Holmes' distrust of women.
Speaking of women, Irene Adler appears in the second story in what is a huge tease for those who ship her with Holmes.  It seems her husband has been tempted into trying to obtain blackmail documents Irene saved from her original appearance.  She's contrasted with Mary Watson, who plays a more conventional damsel in distress.
The black and white art is effective.  The stories rely a little too heavily on scantily clad women and sexual violence–the independent comics boom was partially fueled by the fact that it was no longer necessary to subscribe to the content restrictions of the Comics Code to get distributed, and creators took full advantage of this.
Recommended for fans of well-written Sherlock Holmes crossovers, not so recommended for Holmes purists.
And here's another take on Sherlock Holmes vs. Dracula: