Book Review: The Time Machine by H.G. Wells
H.G Wells (1866-1946) was not the first science fiction author, nor even the first one to write about time travel.  But he was the first writer in English to produce multiple important works in what would become the science fiction genre.  The Time Machine was published in book form in 1895, reworking a magazine serial The Chronic Argonauts, that first ran in 1888 and was then revised and updated in 1894.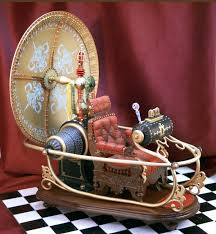 The guests at a dinner party are skeptical when a philosophical discussion of Time as the Fourth Dimension (after length, breadth and depth) is revealed to be practical.  Their host claims to have invented a device for moving through the chronal dimension, a "time machine."  He demonstrates a small model, which appears to work, and announces that he plans to have a full-scale one ready for the next party.
That next week, the host is late to his own party, and appears in great dishevelment, shoeless and limping.  Once he's tidied himself up and dinner has been eaten, the Time Traveller (as he is called) spins a fantastic tale of the future he has seen.  The narrator visits him again later, only to apparently miss his friend's departure–the Time Machine is also missing, and neither ever appear again.
This story is a distinct departure from earlier time travel tales, which tended to feature either "visions" or suspended animation as the travel mechanism, and were in the "Utopian" mold.  The traveler would be ushered around the shiny (or horrific) future by a friendly guide that explained everything.  This story has the Time Traveller able to navigate at will while on his machine, and he must draw his own conclusions from his observations, as no one speaks English in the year 802,000+.
To be honest, the Time Traveller is, despite his scientific prowess, kind of a stumblebum.  It doesn't occur to him to pack for a time voyage, or even put on sensible shoes.  He loses the Time Machine overnight, and only gets it back as an indirect result of accidentally starting a forest fire that probably kills the one person in the future who actually likes him.  He's also far too fond of the word "incontinently", using it at least six times in this short narrative.  He makes and discards hypotheses about what has happened to create the fey Eloi and the nocturnal Morlocks; he admits that his final guess could be completely wrong,
Those who have seen only the movie adaptations should be aware that the romance with Weena isn't really in the book.  The Time Traveller isn't even sure if she's biologically female, and being "not a young man" seems to consider her somewhere between a granddaughter and a really smart pet.  He also gets over any compunctions about killing Morlocks very quickly.
We also see glimpses of story ideas Wells had and discarded; the Very Young Man's second thought for using a time machine is to make himself rich, and one of the potential hitches in the plan is mentioned.
The last couple of chapters are very somber, as even the last traces of humanity have evidently vanished from the far future Earth, and the Time Traveller finally reaches a cold darkness that convinces him it is time to return to the present.
I received this book as part of an anthology of Wells' major works for Christmas, thanks, brother!  It remains a classic well worth looking up; as it's in the public domain, you can probably download it free on the internet, or find an inexpensive edition in used bookstores.