Comic Book Review: The New Teen Titans Volume One written by Marv Wolfman, art by George Perez and Romeo Tanghal
By 1980, Marv Wolfman had come over to DC Comics from Marvel, but found himself writing one-shot team-up books, which he felt didn't allow him the room to develop subplots and characterization the way he wanted to.  He offered to write a revival series for the Teen Titans, a book that had teamed up several kid sidekicks (and eventually some more obscure characters) for some years before dropping sales got the book cancelled.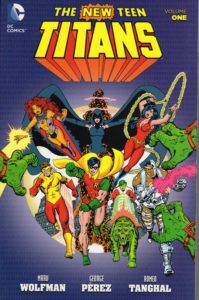 The Powers that Were turned his original proposal down, so Mr. Wolfman revised his proposal with several brand-new characters, going for more of a male-female balance than most teams of the time, and complementary personalities that would both cause conflict and bring the team together.  He also gave most of the group some sort of conflict with a father figure.  Robin trying to get out from under the shadow of Batman, Starfire's weak-willed father selling her into slavery to save his world, Cyborg's father being responsible for his needing massive cybernetic upgrades, Changeling having all his father figures vanish from his life, and Raven's father being the demon Trigon.
That last was the plotline behind the first few issues, as Raven fled to Earth and assembled a team to battle her father's planned invasion.  The first issue, however, made the alien Gordanian slavers the main focus, as Starfire needed to be rescued from them before she could join.  Raven also manipulated Kid Flash's emotions (off-screen but it was pretty obvious) to make him loyal to her and thus willing to help out.
During that same story, the Titans accidentally made an enemy of Grant Wilson, who then in the second issue became the villain Devastator (using the 100% of your brain hokum) as part of a plan by the shadowy organization H.I.V.E. to acquire the services of his father, Slade Wilson, aka Deathstroke the Terminator.
The third issue introduced the first version of the Fearsome Five, a villain group put together by Dr. Light for mutual gain.  They were promptly hijacked by Psimon, one of their members who had been working for Trigon.
The next three issues were all about Trigon, starting with the Titans having to face off against the Justice League in an effort to keep the more powerful heroes from accidentally knocking out the one barrier between Trigon's realm and Earth.  Mr. Wolfman notes that the sales had been going down issue by issue (and it did not help that #5, the issue where Trigon is fully revealed, had guest art by Curt Swan, rather than George Perez–Mr. Swan was a classic Superman artist, but just wrong for this title) but issue #6, the big finish, saw the sales climb and every issue after that for a while.
In issue #7, the Titans face off against their own headquarters, the Titans Tower, as the Fearsome Five had co-opted it in an effort to free Psimon from the fate Trigon had "rewarded" him with.  This issue also explained who Cyborg actually was, and mostly resolved his relationship with his father.
Issue #8 was a breather, so that several new subplots could be introduced, some of which stuck around for quite a while.
On the strength of the many subplots, engaging personalities, and stellar George Perez art, the New Teen Titans series became DC's hottest title, and the closest competitor they had for Marvel's X-Men under Chris Claremont.  One of the obvious Marvel-style touches was setting the series in the real life city of New York, rather than one of DC's many fictional cities.
There are some elements that don't come off as well in hindsight; Starfire's personality, powers and cultural background seem written specifically to have her go around wearing as brief a costume as the Comics Code would allow, or even less.  Raven's origin involves rape by deception, and Trigon comes across as almost cartoonishly evil for the sake of being evil.  Cyborg often takes the role of "angry young black man", and his bickering with Changeling is not nearly as funny as the writer seems to think it is.  And of course, Raven's emotional manipulation of Kid Flash is very skeevy, which is acknowledged in the story itself.
Still, this is an important part of comics history, and fans of the various Titans incarnations should enjoy it.  (With a caveat that kids who only know the Titans from the cartoons might find some of the material a bit much–junior high on up, please.)