Book Review: The Book of Andre Norton edited by Roger Elwood
Andre Alice Norton (1912-2005) was a prolific author,  best known for her science fiction and fantasy novels marketed to the young adult sector.  (I've previously reviewed her 1960 book Storm Over Warlock.)  Her output of short fiction was much less, but enough good stories were available for this volume.  The hardback edition was titled The Many Worlds of Andre Norton.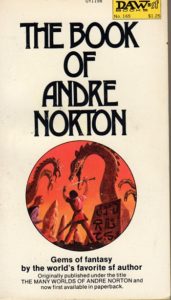 The introduction is by Donald A. Wollheim, the publisher of DAW Books.  He notes that he republished one of her "juveniles" with a new title and without mentioning its original marketing category, and it sold just fine, thank you.  At the time of his writing, "young adult" was still a new name for the category and felt awkward to him.
"The Toads of Grimmerdale" is about a rape survivor named Hertha.   Her homeland of the Dales has recently managed to repel an invasion, but at a high cost, with the land impoverished and the various fiefs thrown into confusion.  The man who assaulted Hertha was not one of the invaders, but of a Dalish army.  She didn't get a look at his face, but there is a clue by which she will surely know him.  When it became clear that Hertha was pregnant, her brother Kuno offered her a choice of a dangerous abortion…or exile.
Hertha undertakes the harsh midwinter journey to the shrine of Gunnora, goddess of women, and is assured that the evil of its father will not taint her child.  But Hertha also wants revenge, something Gunnora (who only has domain over life) will not offer.  So it is that Hertha also seeks out the title creatures, which are not toads in any human sense, who do offer vengeance.  But it is said that the gifts they offer are often not to the pleasure of their supplicants.
Then  we meet Trystan, a mercenary who is no longer needed by his army, and looking for a place to settle down.  He may or may not be the man Hertha is looking for, but soon he must deal with the Toads.  But can either man or woman stand against the gods of the Old Ones?
This is the cover story, and that illustration is at least in the right neighborhood.  Of note is that the Toads do something to Hertha's face that makes her hideous to men, though we never get a description beyond patches of brown skin.
"London Bridge" is set in a post-apocalyptic city.  It was sealed against the pollution of the outside world, only to fall victim to a plague that killed all/most of the adults.  (It's not clear if "Ups" are the few adults that remain, driven to madness by drug addiction, or people the same age range as the protagonist who are drug addicts.)  Lew is the leader of his gang of youths and children, and is on the trail of "the Rhyming Man", a mysterious figure who speaks only in nursery rhymes and seems to be responsible for the disappearance of the younger members of this and other gangs.   This story seems to be more fantasy than science fiction, as the power of belief is an important plot point.
"On Writing Fantasy" is an essay by Ms. Norton about where she gets her ideas and the process of writing fantastic stories.  She was a big believer in reading history and historical fiction to get inspiration and technical details, and shares a list of her favorites.  (The history books may be a trifle dated due to new discoveries and scholarship.)   She also talks about writing Year of the Unicorn, her first book with a female protagonist.  Reader response was apparently very divided–girls really appreciated Gillan, while boys did not like her at all.  ("The Toads of Grimmerdale" turns out to take place at roughly the same time as this book, but does not share any characters.)
"Mousetrap" is a short tale set on Mars.  A man destroys a priceless alien artwork and suffers the consequences.  Hard to discuss further without spoiling.
"All Cats are Gray" also starts on Mars.  A computer operator approaches a man down on his luck with the news that a derelict spaceship loaded with loot is returning to the general orbit area.  She invites herself and her cat along on the salvage mission, which turns out to be a very good idea.  Ms. Norton's themes of bonding with animals and distrust of computers are both seen here.
"The Long Night of Waiting" is set in a new suburban housing development.  The children of the first family to move in meet two children who are very out of place.  This is despite the pair having lived there to begin with; they've been trapped in the land of the Fair Folk for what seems like a short time to them, but more than a century to those outside.  The ending might be happy, or chilling, depending on your attitude.
"The Gifts of Asti" is another story that blends the fantasy and SF genres; the last priestess of the title god flees her temple in advance of the barbarian hordes that have sacked the nearby city.  Passing through underground passages with her telepathic lizard companion, Varta emerges in a valley that has not seen human life in a long time, possibly because of the glass plain where a city once stood.  Varta finds a gift preserved from a time when the ancient towers were not yet built, and this provides hope for the future.
"Long Live Lord Kor!" is a novella-length work.  Mental time travel has been invented, but restricted to meddling with planets whose populations are dead in "the present" to try to bring them back to life.  Special agent Creed Trapnell is assigned to follow up a failed mission.  For reasons not fully discussed, it is only possible to be projected back into a brain that has near-zero intelligence of its own.  Trapnell finds himself not in the body of the oracle he was intended to inhabit (and why would an  oracle be devoid of thought?) and instead inhabiting Lord Kor Kenric, the son of the king.
It seems Kor recently took a bad wound to the head, and was not expected to live, let alone recover with only a case of amnesia.  Now the new merged Lord Kor must seek out the "sorceress" who is the primary agent in this time period and attempt to complete the mission before the oracle sets the planet on the road to nuclear war.  Turns out there were some important things left out of Trapnell's briefing…but did the supercomputer ZAT deliberately conceal these topics, or just not know?
There's some use of what used to be acceptable medical terms for people with mental handicaps, but are now considered slurs.
"Andre Norton: Loss of Faith" by Rick Brooks is a survey of the themes in her work, and what seemed to be an increasing pessimism in her books.  Many of the darker sides of her settings had been there all along, but Mr. Brooks felt they were becoming more central in the late 1960s material.
The volume ends with a complete as of 1974 bibliography for Ms. Norton.
I enjoyed "Mousetrap" and "Long Live Lord Kor!" the best; "The Long Night of Waiting" felt too "old person complainy" for my tastes.  Overall, a strong collection of stories, and it's been reprinted several times so should be available in better used bookstores as well as libraries.