Manga Review: Vampire Princess Miyu Volume Two: Encounters by Toshiki Hirano & Narumi Kakinouchi
The Shinma ("god-demons") are supernatural creatures that come from a place known as the Darkness, which many of them have escaped from to the bright and warm Earth.  It is the fate of Miyu, born of the union of a vampiric Shinma and a mortal human, to be the Guardian who hunts down stray Shinma and returns them to the Darkness.  In this she is assisted by her bodyguard, the foreign Shinma called Larva.  Separated from her parents by her duties, Miyu yearns to go to the Darkness herself, but cannot do so before returning all the escaped Shinma.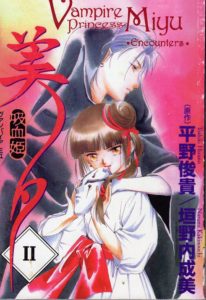 Vampire Princess Miyu was a shoujo horror manga running from 1988-2002, which was turned into two anime adaptations, and had three spin-off manga series.  The manga was brought over by Studio Ironcat, but never fully translated, and is now out of print.
Miyu is something of a morally ambiguous character; while she primarily banishes Shinma who are preying on human souls or bodies, she also attacks those that aren't doing any immediate harm or are even helping humans.   Sometimes she seems to enjoy playing with her prey, but can also be taciturn and business-like in her eliminations.  And Miyu requires the blood of humans every so often to function.  She only takes the blood of volunteers (usually people who've suffered great loss but are still aesthetically pleasing), to whom she promises "eternity"–a deathlike coma of endless comforting dreams.
This volume contains three stand-alone stories.  In "The Jewel Taken By the Sea", a young man who loves aquariums sees a mermaid at the aquarium in the new village he's moved to.  But at his school, he meets a girl who looks almost identical to the mermaid, except for clearly being human.  She's obviously got a secret, but is it the one he thinks it is?
"Doll Forest" concerns a small shop that makes traditional Kyoto dolls, some of which look disturbingly like young women who have gone missing in the neighborhood.  Miyu investigates–is the monster the creepy old dollmaker, his uncannily handsome son…or something even scarier?  This story does include an overweight woman with self-image problems.
"When Birds Cry" is about a homeless man named Tori ("bird") and his two wards, a bird and a little girl both named Ruri.  He's taking care of the Ruris, but are his motives really benevolent?  And if Miyu banishes Tori, who will take care of the little girl?  This one has a teen boy who's interested in Miyu, and not at all understanding the mystic weirdness going on.  His intentions are good, but people close to Miyu tend to die.
Interestingly, all three stories wind up being clean-ups from previous banishings that Miyu performed.
The art is light and airy, and can sometimes make it difficult to tell who's speaking isolated speech bubbles.  The mood is less scary than sad, death or banishment is the inevitable outcome.  The writing is okay, but sounds many of the same notes repeatedly.
This volume and the other Vampire Princess manga may be difficult to find; the anime is somewhat more available.  Recommended to fans of YA vampire stories.
And here's a music video with footage from the anime!