Comic Book Review: Child of the Sun written by Michael Van Cleve, art by Mervyn McCoy
Disclaimer:  I was provided with free downloads of this comic book for the purposes of review.  No other compensation was offered or requested.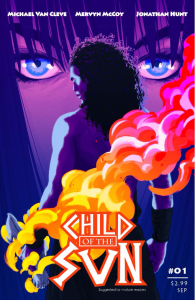 It is 1300 B.C.E., and the people of Israel have fallen into wickedness.  Thus they are unprepared when the People of the Sea invade and conquer their land.  But all is not lost, it seems, for a divine messenger tells of a baby soon to be born.  A baby that will be named Samson.
This is an independently published comic book series loosely based on the Biblical story of Samson.  How loosely?  One of the supporting characters is Heracles of Zorah, who may or may not be the Heracles of Greek myth.   I have to hand the first two issues.
After a nearly silent prelude showing the advent of the People of the Sea and the annunciation of Samson's impending birth, the comic skips ahead to introduce us to Heracles, who then meets the now-teenage Samson after a drunken celebration (as Samson does not drink alcohol, he is the clear-headed one here.)  Heracles takes Samson to Timnath, and introduces him  to Adriana, a priest of Astarte, goddess of love and sex.
The naive Samson falls in love with Adriana, but her life has made her cynical about such things, and her job is, after all, to give sexual pleasure.  While Samson's Nazirite vows don't prevent him from having sex, they do cause some friction between the couple, and he strongly objects to Adriana having sex with people who are not him.  She seems to be warming up to him when Samson punches out a man who wanted to rape her.
And cue a flashback to Samson's childhood and him pulling the head off an oversized cobra.
The third issue concerns "Samson's riddle", one of those Bible stories where no one comes off well.  At the beginning of the feast celebrating his wedding to Adriana, Samson sets a riddle that cannot be answered without knowing an experience only he had.  The guests are not well pleased, and cheat in an ugly way, causing the marriage to collapse almost immediately.
This comic is "suggested for mature readers" due to violence, sex , lots of nudity and a rape scene.   I really can't recommend it to more conservative Christian readers.
The art is pretty good–primarily in black and white, with color for important or emotionally relevant pages by Jonathan Hunt.   The depiction of women is heavy on the "sexy"; mostly excused in these issues by the majority of women in question being in the entertainment industry, but Samson's mother is in a distractingly iffy pose during the annunciation.
It's not quite clear where the plot is going, as the scenes flit back and forth in time.  This series is set for seven issues, so presumably the fourth issue will be clearer as to the direction the author intends.
It's difficult to judge a mini-series by only the beginning–the creators may pull everything together nicely, or it could fall flat.   If it sounds like it may be your sort of thing, please consider buying the individual issues to support the creators and increase the chances they'll be able to finish and release a collected edition.