Book Review: The Ark by Patrick S. Tomlinson
The generation ship known to its inhabitants as The Ark holds the last fifty thousand humans in the universe.  Er, make that 49,999…and falling.  When brilliant geneticist Edmond Laraby goes missing only a few weeks before the Ark is finally going to reach humanity's new home in Tau Ceti (which should be impossible due to the tracking device implanted in everyone's skull when they're born), it's up to Detective Bryan Benson to discover what happened.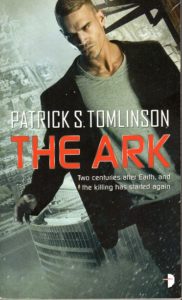 Benson must find out what happened to Laraby, and puzzle out the motive.  Was it his taste in stolen art?  Something to do with his work on adapting plants to the conditions on the new planet?  A personal dispute?  Or something more sinister?  Benson needs to find out fast, or more people are going to die, and failure could mean the end of the human race!
A couple of centuries from now, it's discovered that a black hole is headed for Earth; there was just enough time to build a huge ship to take fifty thousand humans (chosen for genetic stability and general usefulness) from around the world to the nearest inhabitable planet.  This universe doesn't have faster than light travel, so it's taken some more centuries to get there, with generation after generation being born and dying.
Benson's direct ancestors faked their genetic records to get aboard, and got caught harboring a deadly inherited condition.  The disease was excised, but the scandal has tainted the family line ever since, resulting in a tradition of being the lowliest of hydro-farmers.  But Bryan Benson managed to break out of that by becoming a star athlete at the future sport of Zero, and then becoming the chief security officer of the Avalon half of the Ark.
It's been something of a sinecure up until now; the Ark's population is much better-behaved than an equivalent number of people on Earth That Was.  So Benson has been pretty relaxed about the job, having an affair with an subordinate and taking time out to watch the final Zero series before the ship arrives.  He has a lot of catching up to do when there's a serious crime to investigate.
It's interesting to compare this book to One in Three Hundred, the last story I reviewed about the remnants of humanity fleeing a dying Earth.  In that one, the governments of Earth decided to go with the cheapest mass-produced ships possible and let the pilots decide which people to bring based on their own values and circumstances, with a low probability of individual success.  So the population of the new world was essentially random.  Here, the governments decided to build one ship with the maximum probability of success and hand-pick the survivors (with about the same numbers who actually make it through.)
As Benson's investigation continues, he learns to his great surprise that there are a few secrets that have managed to survive the centuries; but murder investigations tend to turn up things people would prefer to stay buried, even if they're not directly connected to the mystery.  Some of the characters have surprising depths, while others are exactly what they appear.
Benson is a decent viewpoint character, sarcastic and fallible.  In a hard-boiled mystery, he's a detective that hasn't finished cooking.  The romantic relationship subplot is okay, but nothing to write home about.
There's some good lines, too.  My personal favorite is "The last time this gun was fired, sixteen million people died."
Recommended for people who enjoy SF-flavored mystery stories, and fans of generation ship stories.