Book Review: The Year of Three Kings 1483 by Giles St. Aubyn
This history of the eventful year 1483 (and surrounding events) in England was written for the five hundredth anniversary in 1983.  The three kings in question are Edward IV, Edward V and of course, Richard III, formerly the Duke of Gloucester.   1483 ushered in the final act of the War of the Roses, a series of succession crises about the throne of England.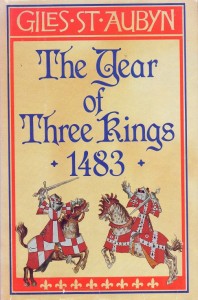 Richard is the most famous of these kings, his actions to take the crown being controversial even in his own time.  The public may be most familiar with his depiction in William Shakespeare's play Richard the Third.   That play was heavily based on a negative portrayal by Sir Thomas More in his history of the period.  There have since been revisionist versions of Richard's life, both negative and positive.
This book seeks to sort through the primary sources for the actual facts available, and examine what probably really happened.  It comes with a dramatis personae, numerous family tree diagrams, some black and white photographs, extensive end notes, a limited bibliography (only those works directly cited in the volume) and an index.
While the author attempts to be even-handed, he is not above editorial comment, showing disapproval of certain historical personages.  He also is somewhat dismissive of Josephine Tey's The Daughter of Time (a novel in which a hospitalized detective applies himself to the historical mystery of whether Richard murdered his nephews) as part of a trend by "women" to favor unduly positive views of Richard.
There's also 15th Century sexism on display in several of the direct quotes from the sources of the time.
The author's conclusion seems to be that while Richard III was not the villain painted in the Tudor propaganda, he was no innocent either.  He did some very good things for the people, but only in the service of claiming and keeping the throne.  The disastrous circumstances caused by the murky succession and various dubious favoritism moments by kings before him made Richard's power grab vital to his self-defense.  But he may not have planned to go so far as he did.
This is a good starting point for those interested in this period of history, but the serious student will want to supplement it with other scholarly biographies and histories of Richard and the other people involved.