Book Review: In Winter's Kitchen by Beth Dooley
When Beth Dooley first moved to Minneapolis from New Jersey in 1979, she was dismayed by the poor selection of fresh food in the commercial supermarket.  She'd heard that Minnesota was a farm state, yet the wilted vegetables and sallow fruit seemed to come from somewhere else entirely.  But soon Ms. Dooley discovered the Farmer's Market and other local food sources.  The first Thanksgiving in her new home wasn't quite up to snuff, but since then she's learned how to cook for a cold climate.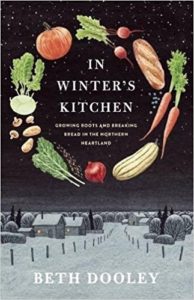 Beth Dooley is a food writer who's published six cookbooks and often guests on public radio.  She obviously loves cooking and writing about food.  There's many sense words in the descriptions of land and ingredients, which makes this book mouth-watering.
The emphasis is on local food sourcing for the Upper Midwest, concentrating on Minnesota and western Wisconsin.  Each chapter focuses on an ingredient for a Thanksgiving feast, from apples to wild rice (and not forgetting the turkey.)  Along the way, she talks about relevant subjects from organic and sustainable farming through urban gardens to Native American rights.
There are tales of the friends Ms. Dooley has met during her searches, many of them independent farmers and small business owners who are struggling to get by.  She also frequently puts in stories of her family as well.   There's also quite a bit of politics, which may come as a surprise to people who aren't foodies, but is inescapable when you talk about locally sourced food.
One subtext that struck me is that Beth Dooley has always been well enough off that she could afford to pay a little extra for the better ingredients, and to take the extra time and effort to find them and make meals from scratch.  This perspective may rub people who work two full-time jobs and struggle even to pay for basics the wrong way.  She's not concerned with "feeding the world" so much as doing well for the future of local "real" food.
After the main text are a number of yummy-looking recipes suitable for Thanksgiving, end notes and a list of books for further reading, all with a more personal touch than strictly scholarly.
Aside from some redundancy which suggests the chapters first appeared as a series elsewhere, the writing is top-notch.
Strongly recommended to foodies who have an interest in locally-sourced food, Minnesotans, and those interested in finding out where their food comes from.
And here's a video of the author demonstrating how to shape Christmas bread: