Manga Review: Infini-T Force 01 Story by Ukyou Kodachi, Art by Tatsuma Ejiri
Emi Kaido is not your normal high school girl.  For starters, her father is always away on business (currently in Los Angeles) and her mother passed away, so Emi lives alone in a huge apartment.  But perhaps more important is her love of tinkering with mechanical objects, taking them apart to learn how they work and usually being able to put them together again better.  As part of this, Emi has learned how to draw, and is pretty good at it, if not professional level.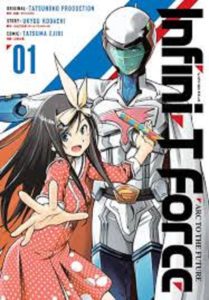 Emi's a little surprised when a creepy-looking delivery guy brings a brightly-colored package to her door.  It's not her birthday or any other special day, but no time to think, as she's late for school!  At lunch, she realizes she brought the package instead of lunch.  Inside is an oversized, childish-looking pencil.  It's labeled as a "Possibility Pencil" able to grant her every desire.   Which sounds pretty unlikely, but when Emi draws a picture of her missing lunch, it shows up underneath her desk!
After school, and Emi communicating with her father to learn he wasn't the anonymous sender, Emi finds herself in a dangerous situation with a drug-crazed criminal.  Emi doesn't have any defense training or weapons, and there's no police in sight.   She needs a hero!  He's got to be sure, and he's got to be soon, and he's got to be larger than life…anyhow, her hand takes over and sketches out four heroic figures on the floor with the pencil.  There are three flashes of light, and a strange man in a gaudy costume comes in the door.
The man rescues Emi, and turns out to be Ken Washio, "Eagle Ken" of the Science Ninja Team Gatchaman!  He's a bit puzzled as to why he's here, as the last thing he remembers is fighting along his comrades against the forces of Galactor.  Emi doesn't know how to send him back, but it soon becomes clear that her Earth is faced with other threats, which will need the intervention of not just Gatchaman, but Tekkaman, Casshan and Polimar as well.
This series is a love letter to the Tatsunoko Productions superhero shows of the 1970s.  American readers may be vaguely familiar with some of them, in particular Gatchaman, which was heavily edited to become more suitable for U.S. children as Battle of the Planets.  Fortunately, their stories are recapped here for people who might not have seen the originals.    The somewhat silly magic pencil plot device makes this feel like many a crossover fanfic I've read over the years.
The heroes are introduced one by one in this first volume, showcasing their different personalities and philosophies of heroism.  (Perhaps a bit exaggerated to create more conflict.)   In particular, Gatchaman and Polimar clash over using lethal force on human opponents.  (All the heroes are A-okay with lethal force against monsters and robots.)
Besides nostalgic oldsters like me, this manga is clearly aimed at the shounen (boys') market.   There are a couple of gratuitous fanservice shots of Emi, and she is generally useless outside of providing support for the male heroes.  Her magic pencil seems to have very limited power outside of summoning heroes or power-ups for heroes, and an attempt to open a gate back to Casshan's world backfires badly.   This could in its way be a homage to the original shows, which tended to treat women as damsels in distress or the "heart" of any grouping.
It's not clear if the villains are a team-up of past Tatsunoko enemies under a new leader, or if the new villains are just using familiar tactics.  In particular, the enemy leader is shrouded in mystery.
I'd like to see Emi's school friend Sanae take a larger role in future chapters, just to amend the gender imbalance a bit.
Recommended to fans of Tatsunoko superhero shows, and tokusatsu (special effect show) fans in general.
Naturally, there's an anime adaptation: