Manga Review: Case Closed Vol. 59 by Gosho Aoyama
Quick recap:  When teen genius detective Shin'ichi Kudou (Jimmy Kudo in  the American edition) is targeted by a mysterious criminal organization, the experimental poison used shrinks him to child size rather than killing him.  Assuming the identity of Conan Edogawa, the pint-sized sleuth moves in with incompetent private eye Kogoro Mouri (Richard Moore) and his daughter Ran (Rachel), who is Shin'ichi's love interest.  Now Conan solves mysteries, but must be more clever in how he lets the police know whodunit, as his true identity and capabilities must remain secret.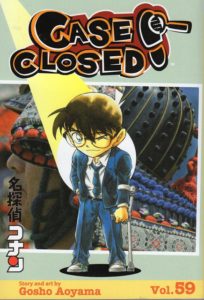 In the volume to hand, #59, the Rena Mizunashi subplot has a shocking conclusion…at least for now.  The Black Organization seems to be fooled, but for how long and at what cost?
Then Kogoro's ex-wife Eri (Eva) keeps an appointment at the hairdresser's, only to have the beautician's ex-boyfriend turn up dead nearby.  Conan must break a seemingly perfect alibi.  There's another near-miss for Eri and Kogoro getting back together.
The "Centipede" case follows, as two families' sons are murdered in bizarre fashion, each with a centipede dropped near the corpse.  The parents initially suspect each other due to a long-standing feud, and Kogoro and Osakan teen detective Heiji (Harley) are called in on opposite sides.  Heiji and Conan quickly ally as more murders happen according to a pattern inspired by famous samurai Lord Shingen and his battle motto, "Fuurinkazan."
This case also introduces a new police character, Kansuke Yamato of Nagano.  He's crippled and scarred from an avalanche, which has the advantage of making him very distinctive and unlikely to be confused with the many other cops in this series.  He independently works out the identity of the killer, but the younger detectives are still very useful.
The volume concludes with Eisuke, Rena's brother, returning to school and being talked into a karaoke party.  Conan spots an FBI agent tailing Eisuke, but when the agent then turns up dead, is Eisuke the killer, or is it the Black Organization…or someone with no connection to that case?  You'll need to wait for the next volume to find out!
As always, the art is decent, and the writing fun.  I really appreciated that the new police detective was competent and didn't need to be handheld by Conan as so many of the others do.  The only real flaw is that the first chapter depends so heavily on previous knowledge of the Rena subplot that it's likely to be confusing to someone who picked up the book randomly.
The U.S. release is still years behind Japan, so it may be a while before we learn the next parts of the subplots.