Book Review: Great Thrillers: 101 Suspenseful Tales compiled by Stefan Dziemianowicz
The definition of "thriller" is a little loose in this fun anthology, though most of the stories do have at least some suspense.  It feels more like the compiler picked a bunch of the public domain stories he liked, but didn't have a strong enough connection to a single genre to put in one of the other anthologies.  There's scary stories, but little outright horror.  Some stories with mysteries in them, but not formal mystery stories.   The closest for many of these is "adventure" or "survival."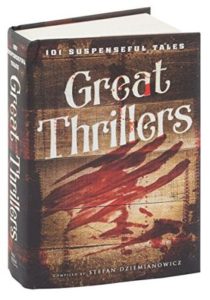 The stories are arranged alphabetically by title, so start with "The Alligator Test" by Howard Dwight Smiley (a supposed psychic flushes out a thief with a stuffed alligator) and end with "With What Measure" by Maude Heath (an ex-prostitute turned society dame is confronted with the one man who knows her past and devises a clever way to stall him.)  There's an impressive amount of variety in these tales; only two, widely separated, use the same gimmick.
None of the stories are over ten pages, and quite a few don't top three, so if one is a dud, another will be along in no time, and there's more hits than misses.
Let's just look at a few that are by famous authors.
"The American's Tale" by Arthur Conan Doyle is a tall tale about flesh-eating plants in Arizona, told to skeptical Englishmen.  Some phonetic dialect.
"Calloway's Code" by O. Henry involves a telegram sent during the Russo-Japanese War designed to foll the censors.  It was probably hilarious in its day, but relies on then-current bad writing habits of newspaper reporters, which have been completely replaced with new bad writing habits so the logic is opaque.
"The Cone" by H.G. Wells concerns the manager of an ironworks discovering that his wife has been cheating on him, and offering the lover a tour of the workplace.  It's obvious where the story is going, but when and how?
"A Dream of Red Hands" by Bram Stoker is a tale of secret murder and the need for redemption.  Content note: death in childbirth in the backstory.
"The Interlopers" by Saki has two men meet in disputed territory.  The first one to have his allies arrive will, in theory, be the winner.  But what if there's a third party involved?
"The Leopard Man's Story" by Jack London has almost nothing to do with leopards, but is about jealousy and vengeance at the circus.  Humorous despite its dark theme.
"Out of the Storm" by William Hope Hodgson is one of his sea tales in which a Morse code message is received from the scene of a nautical disaster.   I can really spot that this story had a strong effect on H.P. Lovecraft.
"The Tell-Tale Heart" by Edgar Allen Poe is so famous that I will just mention it's in here.
"Markheim" by Robert Louis Stevenson concerns a murder on Christmas Day and what might be the Devil, an angel, or a man's own manifest conscience.  Very much in the Victorian tradition of spooky Christmas stories.
Period racism, sexism and colonialism mars some of these stories, particularly "The Cross of the White God" by Harold de Polo, which leans heavily into the "ignorant superstitious native" stereotype.
I could count the stories that feature active female characters on one hand, but "The Sapphire Chain" by Caroline Ticknor features three active, clever women (and two foolish husbands.)  It's also a good story.
Many of the stories can be found in other anthologies or in public domain archives, but this volume would make a good investment for the person who enjoys classic stories and has only a little reading time at any given sitting.