Magazine Review: Detective Fiction Weekly April 8 1939  (Formerly Flynn's) by various
Detective Fiction Weekly started publication in 1924 as "Flynn's", after its first editor, William J. Flynn, who had previously been director of the Bureau of Investigation before it became the FBI.  It ran regularly under various titles until 1942, when it became a monthly, ceasing publication in 1944 and with a brief revival in 1951.  It primarily printed short action-mystery stories, with a serial or two in each issue.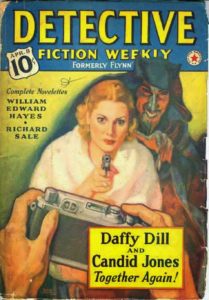 The issue leads off with "Death of a Glamor Girl" by Richard Sale, starring his series characters "Daffy" Dill (crime reporter with a silver tongue) and "Candid" Jones (tough-guy photographer.)  The story is told through a series of phone calls, telegrams, newspaper articles and letters.  Hollywood starlet Carol DuQuesne has been found murdered, floating naked in her pool with ritualistic knife wounds.  The studio is pulling a cover-up, so Dill and Jones are assigned to the story.
The LAPD does not come off that well, with the implication that they are completely owned by the movie industry (except for one honest cop our heroes befriend.)  The cover painting is a scene from the story, accurate except that Satan is not visible (or mentioned) in the story itself.  I am reminded of the "Crime Does Not Pay" comic book, and the sinister Mr. Crime.
"According to Hoyle" by Hugh B. Cave has a young police detective being disappointed by his latest case.  A two-bit huckster has been murdered, and the primary suspect is another two-bit huckster who might have resented the first one impinging on his territory.  Except he claims to have been in Florida for the last couple of weeks, and has the tan to prove it.  (This was back before tanning beds or good fake tans.)
The detective was hoping for something more like the mystery stories he read as a kid, with rich people, black sheep brothers, and missing love letters.  To his partner's surprise, the detective manages to find an angle that provides these elements.  (The partner's more mundane investigation also brings him to the solution.)  This story is very much a period piece, as Hitler's invasion of Czechoslovakia is a plot point.
"Jongkovski's Wife" by Howard Wandrei starts with "Junk" Jongkovski being sentenced to prison for a crime he most certainly did commit.  He's absolutely silent on where the money is, but has publicly declared his intention of murdering his wife Leanna should he ever be free to do so.  This may have something to do with the fact that she was the one who encouraged him into a life of crime in the first place, and promptly absconded with the money and a new boyfriend when Junk got caught.
A big, strong man with a weak ticker, Junk is a stand-up guy for a criminal, and was well-liked in the underworld.  He becomes a model prisoner, and waits patiently for his chance to escape the nigh-inescapable prison he's in.  Meanwhile, Leanna can find no rest, as Junk's friends keep finding her.  It gets worse when Junk finally does escape, and disappears without a trace.  He will certainly get his revenge!
The story ends with a chilling double twist which makes it the best in the issue.  You can find it in the anthology The Last Pin, though it was a small press book so good luck on that.
"The Doom Chaser" by William Edward Hayes concerns an association of trucking companies that are being extorted by a voice over the telephone, which becomes known as "The Voice of Doom."  Private eye Pitcarn is a former FBI man, and could use a break in the case to boost his business.  But the calls have been untraceable, and the Voice is always one step ahead.
"The Eye of the Pigeon" by William R. Cox has Police Chief Buck Harsh being raked over the coals by the new Police Commissioner for not yet solving a bank robber's murder and the subsequent disappearance of his loot.  The commissioner is convinced it was a gangland affair, but Captain Harsh isn't so sure, as the deceased man wasn't the type who worked with gangsters.  Commissioner Tarpoon is a political appointee who is not familiar with police work, and despises the department's reliance on stool pigeons.
The commissioner may have a point.  Captain Harsh's informants have come up with nothing.  The commissioner gives Harsh just 72 hours to crack the case, or he'll be busted down to patrol duty in the goat farm district.  Things are looking dire, until finally Captain Harsh realizes he's been asking the wrong questions, and the eye of the pigeon is useful after all.  Warning: police brutality.
"Illustrated Crimes" by Stookie Allen is a true-crime feature told in captioned illustrations.  In this case, a mysterious stranger who guns down a man turns out not to be that mysterious.  Or a stranger.
"Red Racket" by Dale Clark surprisingly has nothing to do with Communist agents.  Instead, a tennis player is poisoned on the court, and the only person who could have done it is his opponent, the brother of the detective's girlfriend.   Nick Carver had better come up with a better solution, or it's curtains for his love life!
"Sabotage" by Cleve F. Adams is part 5 of 5, and has no "previously" page to orient the reader.  As near as I can make out, "heel" private eye Rex McBride has been called in to deal with sabotage at the dam being built near Palos Verde, a wide open gambling town.  (Pretty clearly inspired by Boulder Dam and Las Vegas.)  It's a confusing mess without all the setup.  This has been reprinted as its own book, most recently in 2016.
"They're Swindling You!" by Frank Wrentmore is another regular feature.  This time it talks about fake correspondence schools that supposedly train you in how to get government jobs.  One of the tipoffs is that the courses came with an admonition not to tell anyone that you were taking the course so that they would not sabotage your efforts out of jealousy.  (In reality so they wouldn't let you know it was a scam.)
There's a cipher puzzle page, followed by "Flashes from Readers", letters from the subscribers to the magazine.  The most interesting is from Marian Pattee, who describes herself as a "militant feminist" and asks for more competent female leads.
Fun, but often dated, stuff.  Keep an eye out at garage and estate sales!