Magazine Review: The F. Scott Fitzgerald Review 2015 edited by William Blazek
F. Scott Fitzgerald (1896-1940) is considered one of America's great writers, best known for The Great Gatsby, his 1925 novel (which didn't really get much traction until after he died.  He was a colorful figure, and his contentious relationship with his wife Zelda (eventually a writer in her own right) has fascinated readers and biographers for decades.   Unsurprisingly, there's a scholarly annual magazine devoted to just Fitzgerald-related topics.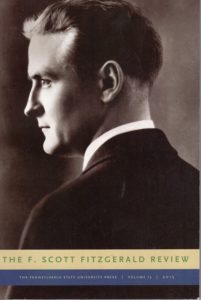 This volume is dedicated to Frances Kroll Ring, Mr. Fitzgerald's secretary during the last months of his life, who had passed away earlier in 2015.  There follow thirteen articles and a set of book reviews.
"The Gilded Man in Nickle City" by Madison Smartt Bell is that author's keynote address for the 2009 International F. Scott Fitzgerald Society Conference in Baltimore, Maryland.  Baltimore, it turns out, was the city the Fitzgeralds lived in during their last doomed attempt at functioning as a nuclear family.  It was also the residence of Mr. Fitzgerald's distant relative and namesake, Francis Scott Key, best known for "The Star-Spangled Banner."  This was the site of F. Scott and Zelda's fierce battle over which of them had the right to use their joint experiences as subject matter for their novels and stories.
According to things he said at the time, Mr. Fitzgerald believed that Zelda's attempts to create art  were causing her mental state to grow worse.  (Shades of Charlotte Perkins Gilman's "The Yellow Wallpaper"!)  He also went to great lengths to establish that he was a professional writer and she was just an "amateur."  She was just as sharp-tongued but from the fragments mentioned seemed to have a better case.
"Mending Sails by Candlelight" by Tennessee Williams is his preface to the play Clothes for a Summer Hotel, a biodrama loosely based on the final days of the Fitzgeralds.  This was his last play to open on Broadway, and he had a bitter tone to his essay, which is why the New York Times refused to print it.  Mr. Williams easily has the best writing in this volume, but explanatory material by John S. Bak gives context to the work.  (Among other things, he points out where Mr. Williams has misquoted poetry.)
"Civilization's Going to Pieces" by Joseph Vogel takes a look at the 2013 film adaptation of The Great Gatsby and how the story has resonance in the Obama era, especially in the areas of intersectional identity politics.  There's some interesting stuff on how hip-hop music works in the current day much as jazz did back in the 1920s, when the novel was written.
"Landscape with a Tragic Hero" by Sara Antonelli takes a closer look at Trimalchio, which was an early version of what became Gatsby (much like Set a Watchman to To Kill a Mockingbird.)  It shares many of the characters and incidents that made it into the published novel, but in significantly altered order and conditions.  Ms. Antonelli's contention is that the changes are so drastic as to make Trimalchio a completely different book worth approaching on its own.
"The Muse and the Maker" by Ashley Lawson features the relationship between F. Scott and Zelda Fitzgerald and examines what it means to be a muse, and whether their collaboration/competition was an inevitable outcome.   She places an emphasis on Fitzgerald's place in the High Modernism movement in literature and its attempt to "reclaim" literature from a lowbrow "feminized" mass market.
"Authorship and Artistry" by Christine Grogan is all about Zelda and looks at two of her stories, "A Millionaire's Girl" and "Miss Ella", and how the author shows improvement between the two.  This is especially noticeable in the respective treatment of the issue of suicide.  Also notable is that Mr. Fitzgerald claimed sole byline on the first story so he could get it published in a more upscale magazine–Zelda's copy of the "tear sheet" has his name crossed out and hers written in.
"My Own Personal Public" by Ross K. Tangedal is very narrow in focus, dealing solely with "A Table of Contents" in Tales of the Jazz Age.  Unlike the usual run of contents pages, this one gives a mini-history of each story (although some of what Mr. Fitzgerald writes is unreliable.)
"F. Scott Fitzgerald and Mary Harriman Rumsey" by Horst H. Kruse is a selection  from his book F. Scott Fitzgerald at Work: The Making of The Great Gatsby, which is covered in the book review section of this volume.  A eugenics enthusiast and consumer advocate, Mary Harriman Rumsey was quite wealthy and may have been the model for one of the Gatsby characters.  Mr. Kruse indulges in some speculation on that topic.
"Party-Going in Fitzgerald and His Contemporaries" by David Seed talks about the many, many party scenes in  Mr. Fitzgerald's work and compares them to parties depicted in other 1920s authors' fiction.
"This Side of Sexuality" by Tanfer Emin Tunc talks about the subject of birth control and abortion in Mr. Fitzgerald's work, and how his lapsed Catholicism and personal experience with Zelda's abortions may have influenced his depictions of female sexuality.  Resonant with today given the theme of women wanting control of their own bodies and being depicted as selfish for doing so.
"Narrative Authority and Competing Representations" by James Stamant sounds much drier than it is.  This essay covers the Pat Hobby stories Fitzgerald wrote in his last years, satirizing Hollywood with a hack scriptwriter as the main character.  Hobby tries to do as little work as possible, caring mostly about getting the credit so payments will keep coming in.
"Master and Model" by Steven Goldleaf is about Saying Goodbye to Sally by Richard Yates, an author whose career had some parallels to Fitzgerald's.  The story is a fictionalization of Yates' experience in Hollywood in which the main character makes those parallels even more direct.
And "Scott Fitzgerald As I Knew Him" by Jace Gatzemeyer takes a look at three "secondary memoirs" (where the focus is not on the writer, but on the writer's relationship with a more famous person) to determine if these are of any use to Fitzgerald scholars.
All of the articles have footnotes ranging from dry to nearly as long as the main text, as well as helpful bibliographies for further study.
This magazine will be of most interest to the serious F. Scott Fitzgerald fan, and college students in the appropriate literature classes.  Check to see if your local college library has a subscription.
One final note:  I look forward to seeing the scholarly article about Mr. Fitzgerald's namesake character in Bungou Stray Dogs, who gains superpowers by wasting money.