Manga Review: Servant X Service 1 by Karino Takatsu
In a certain city in a certain prefecture of Japan, the Health & Welfare Department has hired three new people.  Yutaka Hasebe, a highly competent slacker; Lucy (etc.) Yamagami, a strait-laced woman with an improbable name,  and Saya Miyoshi, an under-confident woman who has a tendency to speak bluntly when pushed too far.  Together, they learn the ropes at their new jobs as public servants.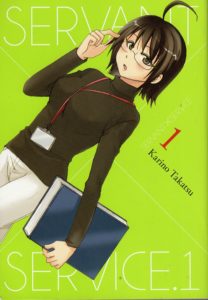 This is a gag manga by a former government worker, with the majority of the story done in four-panel strips.  (The format is called 4-koma in Japan.)  Much of the humor will be appreciated by anyone who's worked in an office or served the public, while some bits (like the backstory behind Yamagami's name) need some explaining to people who are unfamiliar with Japanese culture.  And of course many aspects are exaggerated or outright made up for humor, such as the boss who works from home and uses a stuffed rabbit robot as his stand-in.
According to the author notes, this series was originally published in a magazine that only ran on the fifth Friday of a month, so it took four years for there to be enough material for the first volume.  A switch to monthly publication meant the second volume only took a year.  (Both are included in this omnibus edition.)
The art is adequate; it's easy to tell the characters apart, and backgrounds are generally irrelevant, so seldom appear.  The main subplot is that Hasebe begins to be romantically attracted to Yamagami, who is obtuse to his intentions, making his flirting with her not have the intended result.
Hasebe flirts with a lot of women, in a way that would get him fired in any real office, even a Japanese one–because this is a comedy, he's only reminded that it's inappropriate and occasionally bopped on the head.  And some readers may find the running gag about the size of Yamagami's breasts (large) annoying.
There is an anime adaptation, which I have previously reviewed, and it is amazing how well it worked, turning short gag strips into coherent 22 minute episodes.
Recommended to fans of office-based comedy.