Book Review: Herb Kent West Point Cadet by Graham M. Dean
The United States Military Academy in West Point, New York was established in 1802 as a training ground for United States military (primarily Army) officers.   It's known for its high academic standards, strong Code of Honor, oh, and its students' athletic achievements.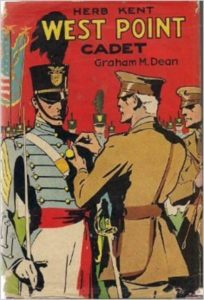 The last is the primary focus of this novel, written in 1936 when West Point's football team was particularly well known as a powerhouse.  Herb Kent is a young fullback who's the star of his hometown high school team, but also good at academics, and a stand-up fellow.  His father was a football star at West Point, but never served in the military due to the sudden onset of an eyesight problem.  His real estate business is suffering in the Great Depression, and Herb's three dollars a week from a part time job is keeping the family out of the poorhouse.  There's no chance of Herb going to college–unless he can win an appointment to West Point!
The first third of the book is the lead up to and detailed play by play of Herb's final high school game, hometown Marion against rival Milford (evidently in their state in the 1930s there's no playoff season.)  This serves to introduce Herb, his best/only friend quarterback Ted Crosby, and jealous rival fullback Steve Moon.
Steve is the sort of villain who often appears in boys' fiction of the early Twentieth Century, the "small town rich" kid who has more money than sense, and resents the hero for having success based on talent and hard work.  Steve has good technical football skills, but no sense of teamwork or sportsmanship, which has resulted in him riding the bench most of the season.  He tries various dirty tricks to get Herb out of the big game so that he can be the star.  (And later in the story escalates to attempted vehicular homicide!)
After the big game, Herb, Ted and Steve prepare for the USMA entrance examination (even if you're great at football, you still have to qualify.)  Herb and Ted win highest marks and are recommended by their state's senators, while Steve barely passes but his wealthy father uses leverage on a House rep to get Steve a slot.
A friend of the family gets Herb and his buddy summer jobs as camp counselors in northern Minnesota, where they save some campers from a forest fire.  And it turns out one of the camp's leaders is a famous football coach who gives our heroes pointers.
Finally, Herb arrives at West Point, where he and Ted are immediately tagged for their company's football team (plebes don't go on the college's varsity team no matter how good their high school record was.)   You'd think that the grinding schedule of the plebes wouldn't allow for any serious shenanigans, but Steve Moon just will. not. let. it. go.
After leading his team to victory over the other plebe football squads, Herb is ready for a big celebration.  But look, the neighboring barracks are on fire!  Herb goes in and saves Steve (who may or may not be responsible for the blaze) but Steve isn't exactly grateful.
Despite the age of the main characters, this is very much a children's book aimed at boys maybe ten to twelve.  Situations are black and white, with no subtlety, everyone cares  far more about football than any other subject, and the only female character even mentioned is Herb's mother.  She cooks well and worries about her son getting military training.  (Perhaps she should be more worried that his father's eye condition (never explained) is hereditary.)
Herb is a star athlete, intelligent, morally pure, and oh yes handsome.  This last we learn in a lovingly described shower scene he shares with Ted, who also gets his lean but muscular body mentioned.   You know, for kids.  Anyhow, the one flaw Herb has is that he is far too reliant on handling things on his own.  For example, he deals with Steve's attempt to run him over by challenging the other boy to an impromptu boxing match.  Herb is warned by adults that this approach could backfire, but it never does.
The football scenes are well-written and exciting, while all other activities tend to be sketchily described (as, for example, what classes one takes at West Point.)
While this was clearly meant to be the first in a series of Herb Kent books (the title of the next one is on the last page) no sequel seems to have been published.  Given the timing, Herb would probably have made First Lieutenant just in time for World War Two.
The archaic attitudes may make this book less appealing for modern boys, but I'd still recommend it to football fanatics.
And now, let's enjoy a football game from the year of publication, as Army battles its age-old rival Navy: