Manga Review: Lone Wolf & Cub Omnibus 1 written by Kazuo Koike, art by Goseki Kojima
Ogami Itto was once a samurai warrior of high rank, the official executioner for the shogunate.  He had a lovely wife and new son; life was good.  But another clan was ambitious, and framed Ogami for treason.  Under sentence of execution and with his wife murdered, Ogami asked his infant son to make a choice between merciful death and life on the run. now Ogami is a ronin, and an assassin for hire.  If you need someone dead, and you can find them, you can hire the Lone Wolf assassin who travels with his cub.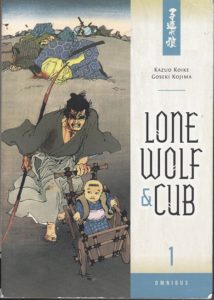 This classic manga series was popular enough to spawn a series of live-action movies, a television series and several spin-off manga.  It was also influential outside of Japan, notably influencing the art and storytelling style of Frank Miller (who provided the cover for this omnibus edition.)  As such, it was one of the first manga series to be translated for the emerging American market, using the expensive and painstaking "double-flipping" method to make it read left to right.
This volume contains the first three volumes of the Japanese version, and these stories are very episodic, focusing on an difficult assassination, a particular facet of feudal Japanese life, or a philosophical point.  It is not until several stories in that anyone recognizes Ogami for who he is, and even longer before even a partial explanation of his past.
Ogami is a stoic character who works hard not to give away his emotions; his tenderness towards Daigoro is almost entirely seen in his actions, not his face.  This does not prevent him from placing his son in danger if it will help with an assassination plan.  Daigoro himself is one of the most ambiguous characters I've ever read.  He seems most of the time to act like the small child he is, but in other instances is far too mature for his age, even allowing for the massive trauma Daigoro has undergone in his short life.  It makes him kind of creepy to be honest.
The art is dynamic and varied, able to handle both exciting battles and calm scenes of nature.  There's a fair amount of reused faces, which with the episodic stories make the manga feel like a television series with a limited pool of guest star actors.
As expected from a samurai revenge story, there is plenty of violence and death; not all of Ogami's assassination targets are evil people deserving of death.  In particular in this volume, one target is a Buddhist priest who must die for political reasons–he teaches Ogami how to attain mu ("emptiness") which allows the assassin to strike without projecting sakki  ("killing intent").  This becomes an important part of Ogami's personal sword style going forward.
There is also quite a bit of female nudity, and at least one rape/murder scene.  Ogami himself is decent to the women he meets, but feudal Japanese society is not a good place for them.
Because of its influence on the subgenre of samurai manga, this series is well worth reading and rereading.  Recommended for fans of this sort of thing.