Book Review: Festival of Crime Edited by Christine Husom, Mickie Turk & Michael Allan Mallory
Minnesotans have a reputation for being a bit mild-mannered and reserved.  But we love celebrations just as much as anyone else, and the state is filled with fairs and festivals, from small-town scarecrow contests to the crowded Pride in Minneapolis.  And sometimes crimes happen at these events.  Thus this collection from Twin Cities Sisters in Crime, a local writers group.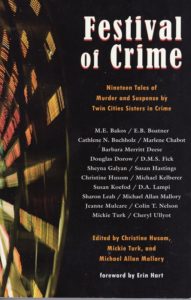 Most of these 19 tales are indeed crime stories, but not always murder, and a few have mystery elements.  A couple have supernatural elements, though only one has it proven.  Some merely take place at or near a festival, while others have it essential to the plot.
The collection begins with "Sawbill Checkpoint" by Michael Allan Mallory (wait, isn't he one of the editors?)   A man is shot during a dogsled race, and his final word may be a vital clue…if only someone knew what it meant.  The last story is "All Sales Final" by Douglas Dorow.  A pair of art dealers discover a treasure trove owned by two elderly women.  Now, how to get it away from them before the old ladies figure out how much it's worth?
Stories I enjoyed the most were "Looney Daze" by Cheryl Ullyot, in which a gambler woos a woman obsessed with wiener dog races; and "Corn on the  Cob" by Colin T. Nelson, about a sheriff faced with criminals he can't put in jail, and an election coming up.
"No Time Like the Present" by E.B. Boatner is about a man who spots some anachronistically-dressed people, and learns their secret.  It feels a little too tidy, with a long-winded wrap-up.
Content warning:  homophobia, torture and domestic abuse come up in different stories.
The writing is decent on average, and I only spotted a couple of minor typos.   There are author bios in the back if you decide one of the stories makes you want to read more.
Recommended primarily for Minnesotan crime story fans, as they'll be most familiar with the local color, but any fan of crime stories should be able to enjoy this.