Comic Book Review: Static Shock: Rebirth of the Cool written by Dwayne McDuffie & Robert L. Washington III, art by Denys Cowan & John Paul Leon
Static is Virgil Ovid Hawkins, a science-loving teenager exposed to an experimental gas that gave him electro-magnetic superpowers.  He protects his schoolmates and neighborhood against gangs and supervillains who were also powered up by the gas.   Now if he could find the time to also have a normal teenage life!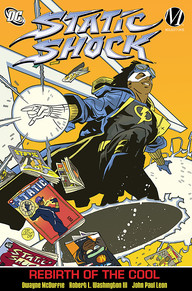 Static was the most successful character to come out of the Milestone Comics line, an attempt to showcase African-American comics creators and more diverse characters in superhero comics.  He was a blend of early Spider-Man (nerdy teenager who is bullied at school, wisecracker, prone to bad luck) with concerns familiar to black teenagers in the 1990s.  He went on to have a Saturday morning cartoon, Static Shock, that ran for four seasons before being cancelled because the toy companies couldn't figure out how to merchandise it.
Although Milestone had ceased publishing in 1997, the popularity of the TV series allowed for a four-issue miniseries that was a "where are they now" for the characters, centering on Static.
This volume reprints the first four issues of the original Static  series, as well as the Rebirth of the Cool miniseries.
The story opens with Static already having operated in his Dakota neighborhood for a month or so, and being appreciated by the locals.   Some hoods are hassling Frieda, the girl Virgil likes, and Static interferes.  After this triumph, Virgil heads home and we meet his skeptical mother and annoying little sister Sharon.  (Virgil's father works long hours at the hospital and we see little of him in these issues.)
Next day at school, Virgil meets up with his friends, including the suave Larry and the sensitive Rick (who is the target of homophobic comments, even though the person doing so isn't sure Rick is gay.)  Virgil asks Larry for relationship advice, as he is thinking of asking Frieda out.  Larry warns that Frieda may already be seeing someone, but Virgil scoffs.
The previous hoodlums invade the school to capture Frieda (popular girl!) and take her to a nearby abandoned playground.  Their leader, Hotstreak, is interested in her (but not vice versa), and in luring in Static for a fight.  With his powers of speed and fire, Hotshot beats Static badly, then leaves to bask in his triumph.  Frieda is surprised to learn that Static is really her friend Virgil.
At Frieda's place, Virgil gets patched up and tells his origin story.  Some time before, he was new at Ernest Hemingway High School (the Hawkins family had moved from a worse neighborhood) when he ran afoul of a gangbanger nicknamed Biz Money B.  Virgil's friend Larry advised him that he would continue to be victimized unless Virgil stopped the bullying permanently.
Not actively engaged in the local gangs himself, but "connected", Larry knew of a turf war going on.  There was going to be a huge throwdown of all the gangs on Paris Island the next night.  If Biz Money B just happened to die during it, end of problem.  Larry provided Virgil with an address and a disposable gun.
Come the actual event, Virgil found himself unable to murder a man, no matter how awful.   But before he could retreat, the cops raided the battle and doused the assembled gangs with what was supposed to be riot gas.  It's actually "Q-juice", an experimental chemical developed by Alva Enterprises.  (Alva Enterprises is the bad guys at this point in time.)  Those who survive inhaling it gain superpowers.
This includes Virgil, who uses his newfound electromagnetic abilities to evade capture by Alva Enterprises goons.  Unlike most "Bang Babies", who started out as criminals in the first place, Virgil decided to use his powers for good as Static.
Explanations given and a pep talk from Frieda later, Static has a rematch with Hotstreak (who of course is the former Biz Money B) and easily defeats him.   Virgil then asks Frieda for a date, but is turned down.  (Turns out she's dating Larry.)  They remain friends.
The next two issues have Static battling Tarmack, the living road, and Holocaust, a flame-wielding villain who picked the name deliberately to be offensive.   Holocaust is a would-be crimelord, and tries to sell Static on the idea of working with him against "The Man" who's keeping them down.  Holocaust talks a good game, and Static is not particularly blind to how systemic racism is a factor in his life.  But the villain soon shows his true ruthless nature, and Static dissolves the partnership.
When I first read this back in the early Nineties, I wasn't all that impressed.  I was tiring of angsty teen heroes, and Virgil's personality can be a bit much.  But the writing rapidly improved, and the more realistic look at life in a multicultural neighborhood made the book stand out from the mainstream comics equivalents.  The coloring is of special note–Milestone used a new coloring process that allowed more subtlety in hues, so that not all black people had to have the same skin tone.
The mini-series picks up some months after we last saw Static in his own series.   Virgil has retired from superheroing after losing a partner, and is catching up on his civilian life, including having a new girlfriend.   This can't last, of course.   Someone is kidnapping Bang Babies and other superhumans.
They've already taken down the Blood Syndicate (morally complex gang), and crippled Hardware (the local equivalent to Iron Man.)   Icon (the local equivalent to Superman) is out in space, Xombi (regenerator) only handles occult weirdness, and the Shadow Cabinet (secret society of superhumans) is officially hands off.  That just leaves the Heroes, Static's old team, and without his powers, they're not doing so hot, having just lost one of their most powerful members.
Virgil is begged to come back to active duty, but refuses until inevitably the baddies stumble across him while hunting other Bang Babies.  He briefly assumes a costume that looks like the cartoon before returning to his more usual garb, and leads the remaining heroes (including some unofficially seconded Shadow Cabinet members) to find the missing superhumans.
The investigation leads to someone with a shocking tie to Earth's first superheroes, the Tower Family, and a small army of that person's minions, powered up by the very Bang Babies they've kidnapped!
It's nice seeing many favorite characters again, including the love-to-hate omnicognitive Dharma.  ("I'm not going to tell you anything.  Because I know the minute I leave the room, Iron Butterfly will tell you everything you need.")   Because this is a Static-centric story, the other characters give him more respect than is perhaps warranted by their history.
I'm not fond of the art, as the inks tend to the blobby, losing subtlety in facial expressions.
Good ending, though.
I understand that there's a Milestone event coming up from DC comics, so now may be the time to look up this bit of the backstory.
And now, the openings from the cartoon: