Book Review: The Black Tulip by Alexandre Dumas
The year is 1672, and the Haarlem Tulip Society has offered a hundred thousand florin prize to the tulip breeder who can create a black tulip, without imperfection or spot of other color.   Cornelius van Baerle of the sleepy village of Dordrecht is one of the leading contenders for the prize.  He's a medical doctor who knows something of science, a skilled painter, so knows something of art, and absolutely obsessed with tulips.  It doesn't hurt that he's independently wealthy already, so he doesn't have to worry about a lack of funding while he concentrates on the project.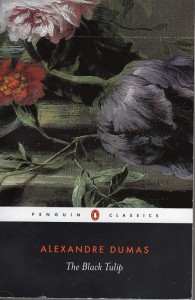 Cornelius van Baerle is entirely indifferent to politics, so is unaware that his godfather and namesake Cornelius de Witt and his brother Johan de Witt are in deep trouble with the supporters of William of Orange, the new Stadhouder of Holland.  Nor does Cornelius realize that he has inadvertently made an enemy of his next door neighbor, rival tulip breeder Isaac Boxtel.  Thus it comes as a complete surprise to Cornelius when he's arrested for treason and sentenced to death.  How is he ever to create the black tulip now?
This 1865 novel by Alexandre Dumas starts with a real historical event, the mob murder of the de Witt brothers after Cornelius de Witt was (falsely, probably) accused of plotting to assassinate William of Orange, as he'd opposed reinstating the regal office of Stadhouder.  The rest of the novel is romantic fiction, as Dumas felt a good story was far more important than strict historical accuracy (or scientific accuracy–the description of Cornelius' plans for creating a black tulip owe more to Jacob's spotted and smooth staves than Mendel.)
Despite their relative closeness on the map, most Frenchmen of the Nineteenth Century considered the Netherlands an exotic foreign land, preferring to travel to the south for their vacations and education.   Dumas draws heavily on the fine tradition of Dutch painters both thematically and as an aid to the reader in imagining the events.
Dumas was of mixed ancestry (his paternal grandmother had been an Afro-Caribbean slave and his grandfather a French nobleman) and his father, a general, had fallen out of favor with Napoleon when Alexandre was very young, impoverishing the family.  It's been suggested that the struggles caused by these factors explain why false accusations and injustice show up so often in his novels.
Back to the novel.  His sentence commuted to life imprisonment, Cornelius van Baerle is put under the cruel administration of jailer Gryphus, but also meets the jailer's beautiful daughter Rosa.  Cornelius shares that he managed to save three offsets from a bulb that very likely blossom into the black tulip.  Rosa agrees to help him attempt to grow the tulip, and their affection for each other grows as well, also helped by Cornelius secretly teaching Rosa to read and write.
Unfortunately, Isaac Boxtel has realized that Cornelius must still have the offsets.  He begins a campaign to obtain the black tulip by any means necessary.   Boxtel makes an interesting villain for the book, because he never confronts Cornelius directly, and Cornelius only vaguely recognizes him at the end of the book, never learning about his motives.  Boxtel loves tulips as much as Cornelius, and has had a small success.  But he's not as wealthy or smart, and when Cornelius accidentally cuts off light to Boxtel's tulip garden, Boxtel realizes that he can never catch up.  Resentment and envy lead him to ever more openly criminal tactics in order to claim the prestige of presenting the black tulip (and the prize money would be good too.)
Cornelius is good-hearted, but often puts his passion for tulips ahead of other considerations.  (For example, he first plans donating the entire prize to the poor, then a few minutes later switches that to half the prize so he can fund more tulip research.)  It takes Rosa to show Cornelius that some things are more important to him even than tulips…but not by much.
Rosa is perhaps a bit much as a heroine–she's beautiful (of course), pure-hearted and pretty smart.  Considering her father's abusive nature and crudity, I presume this all comes from her never-mentioned mother's side.  Rosa realizes that her illiteracy is a weakness, and takes the initiative to ask Cornelius to teach her to read and write, which helps her immensely towards the end of the narrative.  The narrator describes her as the sort of woman who is fearful over trifles, but has great courage in an actual crisis, which comes out towards the end.
Both are believing Christians, and their prayers seem to be answered, but not without suffering along the way.  The narrator flat out states that God is behind some of the coincidences that move the story along.
William of Orange is enigmatic–he clearly orchestrates the mob attack on the de Witt brothers at the beginning from behind the scenes, but afterwards is helpful to Cornelius and Rosa, and is never confronted for his part in the horrible events of the opening.  Part of this is because Dumas has added in character traits of his grandfather, William the Silent.  Another part is that William went on to become King of England in 1689.
The narration is old-fashioned, and often addresses the reader directly.  For example, after the first paragraph establishes that there's a lynch mob on the loose, the second paragraph essentially says, "yo, I know you readers want to get to the exciting parts, but the historical background is a must-have."  And so there ensue several pages of recent Dutch history to set up why there's a lynch mob.
This is a relatively short book with fewer characters than some of Dumas' more famous works, so is a quick read.  The Penguin edition is translated from the complete 1865 text, and comes with an introduction by the translator that covers such topics as the tulipomania of the 1830s and where Dumas played fast and loose with history, and footnotes for cultural references.
For those of you who prefer to watch movies, there's a British film version from 1937, There were BBC miniseries in 1955 and 1970 as well.  The 1963 movie La Tulipe Noir was an adaptation in name only, making the Black Tulip a Scarlet Pimpernel-style masked crusader for justice.  That movie then inspired the Japanese anime series La Seine no Hoshi ("Star of the Seine) which mixed in some Rose of Versailles aspects in the story of a young woman who adopts a masked guise to aid the Black Tulip.
The Australian Burbank studio animated film version at least keeps the tulip-growing and false accusation, but adds talking mice and reimagines Boxtel as an evil alchemist who needs the black tulip to summon Azatoth and gain unlimited power.  There's also a Black Tulip film from 1988, but that's a documentary about Soviet soldiers in Afghanistan.  Oh, and the story "A Coffin for the Avenger" which I reviewed a bit back has a German villain who calls himself the Black Tulip.
Recommended to fans of Dumas' other work and to tulip fanatics.
And now, a video about the tulip: