Book Review: Minnesota Vice by Ellen & Mary Kuhfeld
As I have mentioned before, Minnesota has many fine mystery and crime writers.  Mary Kuhfeld is probably best known under the pen name Monica Ferris, under which she has written nineteen Betsy Devonshire Needlework Mysteries.  (Thus the subtitle "Monica Ferris Presents" for these self-published books.)  Ellen Kuhfeld is also an experienced mystery writer, and they collaborated on several stories for Alfred Hitchcock's Mystery Magazine in the 1980s.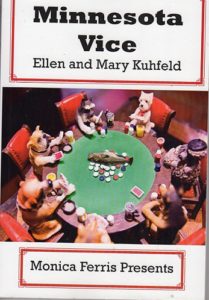 Of the ten stories in this collection, the first six are collaborations, and the first four are set in Hedeby, Minnesota, a largish town in the fictitious Hedeby County.  The police detective team of Jack Hafner and Thor Nygaard is introduced in "An Ill Wind."  A sudden blizzard snows in the town, making Hafner and Nygaard the only officers able to respond to a report of murder.  With all the outdoor clues buried under new-fallen snow, how will the detectives figure out which of the obvious suspects is guilty?
"Allergic to Death" takes place in a warmer season, as a man with lethal allergies apparently decides to take a walk in a pollen-laden garden.  Simple enough, but one of the relatives insists on a cremation before an autopsy can be ordered.  Honoring the wishes of the deceased, or covering up something more sinister?
"The Scales of Justice" concerns a traveling salesman who gets caught cheating at poker.  Since the game itself was unlawful, the man can't be arrested.  Nygaard decides to treat the fellow to some traditional Norwegian hospitality.  This story will be funnier if you're familiar with Norwegian-American customs.
In "Night Light", there's a UFO, leading to suspicions that a murder and disappearance may have alien involvement.  This is Hafner and Nygaard's toughest case yet!
"Timely Psychiatric Intervention" features a government think tank that actually has a counselor handy to head off any of their scientists going mad.  But the nature of McCain's project may make Dr. Bach's repeated attempts to help him moot.
In "A Specialist in Dragons", Baron Halfdan's daughter has been abducted by a dragon.  He seeks the help of his local wizard, Wulfstan.  Unfortunately, Wulfstan's not up to the task of tracking a dragon, and a series of increasingly expensive specialists needs to be called in.  Can Halla be rescued before the Baron runs out of gold?
The next four stories are solo efforts by Ellen Kuhfeld.  "The Old Shell Game" concerns a museum curator that notices a valuable fossil has gone missing.  It's not anywhere on the grounds,  but it's impossible for this large item to have left the premises without being seen.  How did it vanish?
"Thorolf and the Peacock" stars a Viking merchant (who is also the star of Ellen Kuhfeld's book, Secret Murder) who is insulted by a flamboyant trader.  Thorolf decides to treat the fellow to some traditional Norwegian hospitality.  (In a slightly different manner than in "The Scales of Justice.")
The next two stories were printed in speculative fiction magazines in the 2000s.  "Dances with Werewolves" has the investigative team of Scott & Scott hired to determine if a man's new girlfriend is a Were.  This one contains a twist genre-savvy readers will spot quickly.
"Cycles of Violence" is a sequel to that tale, in which Bjorn the bartender must deal with a Wendigo invasion.  It's easier to do that when you're a werebear!
The bane of self-published works, there are a few typos, including an error in the table of contents.
As a hodgepodge of previously un-reprinted stories, this volume may not satisfy mystery purists (even though most of them were printed in a mystery genre magazine.)  That said, these are fun stories of which I liked "Allergic to Death" best.  I felt "Dances with Werewolves" was the weakest, probably because I spotted the twist far too early.
Recommended to Minnesotans (especially mystery fans) and fans of the Monica Ferris books.
Disclaimer:  I received a copy of this book from the authors to facilitate this review.  No other compensation was requested or offered.