Manga Review: Vinland Saga Book Eight by Makoto Yukimura
Warning:  This review contains spoilers for earlier volumes in the series.  If you have not read those, you may want to refer to my earlier reviews instead.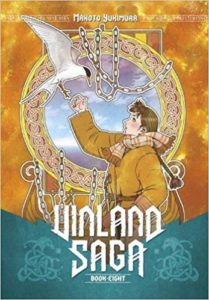 Thorfinn Thorsson has finally arrived back in Iceland after more than a decade away.  His sister, now a wife and mother herself, tells Thorfinn that he's of an age when he should get married and settle down.  Snoggi the fisherman has five lovely granddaughters of the right age, and is looking for an heir.  Thorfinn admits that the life of a fisherman is not a bad one, but he has other plans.
Thorfinn has seen much bloodshed and suffering–and caused some himself.  With his new pacifist ideals, the young man wants to mount an expedition to Vinland, to build a community without war or slavery.  The problem is, that expedition will need a lot of front money, and where will he get the funding?
Thus this epic tale of the Viking age enters another phase.  It has changed considerably from its initial plotline of vengeance seeking, though as we will see, that theme has not entirely vanished.
The only fellow around with deep enough pockets is Halfdan the Chainer, who has built up a fortune by lending money to small holders, then making them his thralls if they do not pay up.  He is not without his own form of honor, but is a hard man.  Halfdan also has his own concerns.  His not quite as bright son Sigurd is soon to be married to Leif's sister-in-law Gudrid.
Gudrid was a child bride, and widowed before the marriage could be consummated.  That was something of a relief to her, as Gudrid has always resented the gender roles of her society.  She wants to be a sailor, exploring the wide world, not a wife to stay home and tend the household.  But now Leif's family is entering an alliance with Halfdan, so she's being forced into this arranged marriage.
When Thorfinn approaches Halfdan with the proposal for the Vinland expedition, Halfdan tries his favorite game of breaking men's  pride.  But Thorfinn has no pride to break.   So Halfdan decides on a new game.  He gives Thorfinn a cargo of narwhal horns, of minimal value in Iceland, but priceless in far-off Greece.  If Thorfinn can survive the journey and return with a good profit, Halfdan will support the expedition.
As Thorfinn, Einar, Thorfinn Bug-Eyes, and Leif prepare to cast off for the journey, they are joined by Gudrid.  The wedding night…did not go well, and she needs to leave pronto.  With great reluctance, she is allowed to board.    Her not actually dead husband Sigurd soon figures out what happens, and sets out in pursuit.
The vengeance theme comes back as the travelers stumble across Karli, an orphaned infant that none of the locals will take in lest the killers of Karli's family target them as well.  After all, when Karli is grown, he will be honor bound to kill the killers.  There's some comedy when it turns out that none of the group know how to take care of a baby, even Gudrid.  She has to explain basic female anatomy to Thorfinn, who had never gotten around to learning before.
And then there's a cliffhanger, as Thorfinn faces vengeance from his own murderous past.
The art and characterization continue to be top notch, the humorous moments working well to offset the dramatic themes.
There's less violence than in the previous volume, but it's just as intense and horrifying when it does occur.  Gudrid's wedding night is borderline; Sigurd doesn't want to rape Gudrid, but he doesn't think to check how she feels about having sex.  (It doesn't get further than him opening her outer clothing before she reacts badly.)
Period sexism is pivotal in Gudrid's plotline.  (It's not mentioned in-story, but her mannish taste in clothing would have been grounds for divorce if she kept wearing such after the wedding.)  But we also see the point of view of women who fit better into Icelandic society.
By changing up the story direction every few volumes, this series remains fresh and interesting.  Highly recommended.
Let's have a Viking video!