Comic Book Review: Corpse on the Imjin! and Other Stories by Harvey Kurtzman edited by Gary Groth
In later years, Harvey Kurtzman was better known  for his humor work, among other things being the first editor of MAD.  But while he worked at EC Comics in the early Fifties, Mr. Kurtzman was also known for some very impressive tales of action and warfare in Two-Fisted Tales and Frontline Combat.  He was a pioneer in the area of more "realistic" war comics, ones that didn't treat the enemy as subhuman or inherently evil.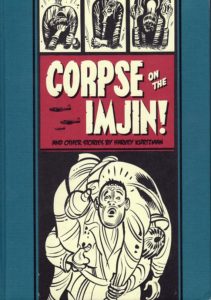 This book reprints many of those stories, divided into two sections, those Mr. Kurtzman illustrated himself, and those done by other artists from his layouts.  (He was notoriously unhappy when those artists deviated from his vision, and as he was also the editor of the books, those artists usually didn't get invited to work with him again.)
The volume opens with "Conquest!", a story set during Spain's expansion of its empire into Central and South America.  Captain Juan Alvarado and his conquistadors initially have great success against their under-gunned native opponents, but their lust for gold undoes them.
The final story (with art by Reed Crandall) is "Memphis!" about a battle between Union and Confederate gunships on the Mississippi River during the Civil War.  The enthusiasm of the spectators, especially the children, is contrasted to the horrific cost of the battle.
The Korean War was going on during the run of these comic books, and the majority of the stories concern that conflict.  Several of these are top-rate.  "Rubble!" is about a Korean farmer building a doomed house, with step-by-step coverage of the hard labor he puts in–the art in some panels reminds me of WPA heroic friezes.  "Air Burst!" is the tale of a Chinese mortar squad as they try to survive a UN attack, their numbers dwindling.  "Corpse on the Imjin!"  was one of Mr. Kurtzman's favorites, about two soldiers fighting to the death near the title river, with narration that's deliberately poetic.  And "Big 'If'!" is a meditation on the randomness of death that focuses on one soldier considering the choices that have led him to this place, sitting facing five "devil sticks."
Some of the stories are not quite as good–"Contact!" about a U.S. patrol looking for the North Koreans and finding them ends with a patriotic speech straight out of Hollywood propaganda.  And "Bunker!" (art by Ric Estrada) about two disparate units trying to take a heavily-defended hill, has some unfortunate exaggerated features on the black soldiers that would not fly today, despite the well-meant message of the story.  But overall, most of the stories are solid to excellent.
The stories are reprinted in black and white, which favors the strong inking skills of Mr. Kurtzman, but there is also a color cover gallery that shows off his sense of color design and the work of Marie Severin as a colorist.
The volume is completed with several essays about Mr. Kurtzman's work and EC Comics in general.
While the violence level is high as you might expect from war stories, these tales don't lean on the gore as some of EC's horror titles did–even visible blood is rare.
Highly recommended to EC fans, war comics buffs and those studying the Korean War and how it was seen at the time.