Magazine Review: Haute Dish Spring 2016 edited by Debby Dathe
This pun-titled periodical is the thrice-yearly organ of Metropolitan State University in Saint Paul, Minnesota.  It features the artistic (mostly photography) and literary talents of the students there.  This issue is thin compared to most college literary magazines I've seen, and the written contributions short–the longest doesn't quite make four pages.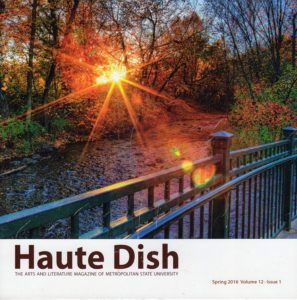 Of the photographs, the one I enjoyed most is Debby Dathe's "Apprehension", showing a steep wooded staircase from a kitten's point of view.  Another good one is "Tulip" by Jeremiah Grafsgaard, a dew-sprinkled tulip blossom about to open; this is placed directly opposite the prose piece "Iselder" by Alyssa Kuglin, which is about recovering from trauma and has tulip imagery.  The juxtaposition of these two pieces is easily the best editorial decision in the issue.
"The Student Body" by Debby Dathe (again!) struck a nerve with its tale of being chosen last in gym class.  But my favorite of the prose pieces was "Evidence" by Gina Nelson, about a person being coached through how to make a screenshot,,,for disturbing reasons.  There's some poetry too, none of which stood out for me.
This magazine will be of most interest to students and alumni of MSU, and perhaps their family.  But collectors who take the long view might consider these sorts of things as investments should one of the authors represented hit the big time so that their early student work becomes valuable.