Book Review: Nexus by Ramez Naam
In the not so distant future, technologies for human alteration and augmentation have advanced rapidly, so that many people are considered "transhuman" and there are a few that are possibly "post-human."  One of the new developments is Nexus, a "nanodrug" that allows humans to communicate mind-to-mind to some degree.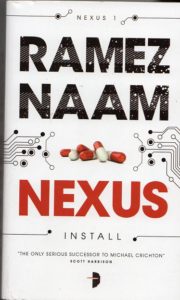 Kaden Lane and his friends have developed a new variant of Nexus they call Nexus Five.  It makes the effects of Nexus permanent and gives the user new capabilities that are near or at superhuman levels.  Young and idealistic, they want to help the world with this new technology.  Samantha Cataranes and the agents of the Emerging Risks Directorate want to protect humanity from the misuse of new technologies like Nexus Five, even if it means holding back progress by the strongest means available.  These two groups, and several more, are on a collision course.
After several horrible incidents (one of which Samantha was a direct survivor of) involving various new human enhancement technologies, the governments of the world decided that people who had passed a certain line were no longer human in the legal sense, and thus had no human rights.  In the U.S., the ERD has taken this to an extreme, censoring, imprisoning or even killing as necessary to prevent what they see as harmful alterations to humanity.  Of course, to battle criminals with these enhancements, the government agents themselves have to become transhuman, a bitter taste in Samantha's mind.
Kaden and his friends are caught early on before they can spread Nexus Five beyond their immediate circle, and Kaden is extorted into working for the ERD.  It seems there's this Chinese scientist, Su-Yong Shu, who is violating the international agreements on behalf of her government, and she's taken an interest in Kaden's work.  The ERD wants Kaden to go to a scientific conference in Thailand to be contacted by her and eventually infiltrate her laboratory.  If he doesn't do what the ERD wants, his friends will be imprisoned incommunicado permanently.  Naturally, the agent assigned as his partner is Samantha, the one who busted him.  She is against her will dosed with Nexus Five to help in the assignment.
While firmly in the science fiction camp, this book has the structure of a techno-thriller.  Every so often, the action is interrupted for "Briefing" sections that fill in some of the future society's backstory.  The technologies have both good points and bad ones–it's pointed out by a minor character that because many of the enhancements are produced illegally due to the heavy restrictions, safety and side effects aren't tested as rigorously as they would be if researching the technology was legal.
One of the things I like about this book is that most of the characters are at least trying to do the right thing.  The ERD really does good work pursuing criminals who abuse new technologies.  Kaden and his friends want to improve everyone's lives.  Su-Yong Shu wants to protect her people, even as her government perverts her work.  A scientist-monk wants to invite people to live in harmony.  But these goals come into conflict, and there are a few people in the story whose motives are greedy and self-serving, and they force the story on to a violent path.
Kaden and Samantha both grow over the course of the story, Kaden learning to take responsibility for the consequences of his actions (and to think more carefully what those actions should be) while Samantha moves past the pain of her past to find a new way into the future.
Early on, there is a scene where a faulty "sensual enhancement program" turns a consensual encounter into involuntary sexual assault, and one character's backstory involves rape and sexual abuse.  The abuse of mind control technology is a constant theme.
In the author's note, he discusses the real-life technologies he's extrapolating from–it's fascinating stuff.
Recommended for science fiction fans up for discussions of transhumanism and the possibility of post-human people.