Book Review: Penny Dreadfuls: Sensational Tales of Terror edited by Stefan Dziemianowicz
While the term "penny dreadfuls" proper belongs to a particular type of inexpensive newsprint periodical, as explained in the introduction to this volume, the twenty stories chosen here can all be described as lowbrow sensationalist literature written for those seeking thrills in their fiction.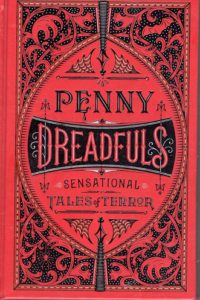 Of these, Frankenstein; or, the Modern Prometheus by Mary Shelley (1818 edition), The Strange Case of Dr. Jekyll and Mr. Hyde by Robert Louis Stevenson, and "The Pit and the Pendulum" by Edgar Allen Poe are so famous that it hardly seems worth discussing them.  Suffice it to say that they are classics, and well worth reading at least once, especially if you've only seen the movies.
"The Adventure of the German Student" by Washington Irving is a ghost story set against the backdrop of the French Revolution.  It stops where a lot of current horror tales would end the first chapter.
"The Wehr-Wolf: A Legend of the Limousin" by Richard Thomson does in fact feature a werewolf.  Most of the story space, however, is taken up by comic relief character Antoine Du Pilon, a quack doctor who is full of knowledge…most of which is wrong.  This kind of dulls the tragic twist ending.
"Sawney Beane: The Man-Eater" by Charles Whitehead was based on a folk story that might have been loosely based on a real incident.  It concerns a cannibal clan near Edinburgh during the reign of James VI.  The story is written in the "true crime" style, regardless of its actual veracity.
"Aurelia; or, the Tale of a Ghoul" by E.T.A. Hoffman has a doctor tell his patient that it's perfectly normal for a pregnant woman to have strange food cravings, and she shouldn't feel ashamed of that.  In fairness, she hadn't told him what her cravings were for.
"Wake Not the Dead!; or, The Bride of the Grave" by Johann Ludwig Tieck is about a man whose first beloved wife dies and he gets remarried.  But it turns out he still isn't over his first love.  A passing sorcerer finds this obsession unhealthy, but mentions that he could in fact bring the first wife back to life.
The husband insists on having this done, despite being repeatedly warned that this is a bad idea which will have catastrophic consequences.  (Honestly, I think the sorcerer only went along with this for the chance to say "I told you so" later.)  Predictably, catastrophic consequences follow.  The ending comes out of left field and is jaw-dropping in its non-sequiturness.
"The Dream-Woman" by Wilkie Collins is about an apparently prophetic dream, and the effect it has on the dreamer.  Is it a warning of the future, or did he shape his life to fulfill the dream?
"A Night in the Grave; or, the Devil's Receipt" by Anonymous is a comedic tale told in Scots dialect.  Highland piper Steenie tries to pay his rent, only to have his landlord die before giving Steenie the receipt.  The new landlord claims there's no record of the payment and no sack of silver to be found, so Steenie must pay the rent again.  The piper must find that receipt, even if it means braving the gates of Hell.  I found this one hilarious, but I like Scots dialect stories.
"The Case of Lady Sannox" by Arthur Conan Doyle was a strange read for me as there's no Sherlock Holmes in it.  A surgeon is called for a life-saving operation, only to learn the true nature of the veiled patient.  This one has some period ethnic and religious prejudice, which is not mitigated by the fact that one of the characters is deliberately playing into it.
"The Diary of a Madman" by Guy de Maupassant is the journal of a respected judge who starts to wonder what it would be like to commit murder.  Chilling.
"George Dobson's Expedition to Hell" by James Hogg concerns a coachman's dream (or was it a dream?) of driving his coach into the netherworld.  This story didn't work for me, a bit too thick in dialogue that is "yes I will" "Oh no, you won't."
"The Apparition of Lord Tyrone to Lady Beresford" by Anonymous is a tedious ghost story that turns out to be a propaganda piece for Anglicanism. "Deism is wrong!"
"Lost in a Pyramid; or The Mummy's Curse" by Louisa May Alcott is one of the tales she penned anonymously  before hitting it big as a children's author.  Arrogant white explorers get lost in a pyramid, burn a sorceress' mummy for fuel, and suffer the consequences of looting the corpse.  The plot requires two separate people not to catch on to the symptoms of slow poisoning.
"In Kropfsberg Keep" by Ralph Adams Kram, two ghost-hunters spend the night in a ruined castle, reputed to be haunted.  One of them doesn't survive.  A real ghost may or may not be involved.
"The Buried Alive" by John Galt is a premature burial story.  The protagonist suffers an attack that leaves him awake but paralyzed and apparently dead.  His friends and family fail to have an autopsy done, and he is buried alive.  There was apparently a time when this narrow subgenre was hugely popular, to the point that Poe wrote a parody version.
"The Dualitists; or, the Death-Doom of the Doubleborn" by Bram Stoker is about a game of Hack that goes too far.  (In Hack, two similar objects are smashed against each other to see which is superior in strength.)  This story is dead baby comedy, and also includes animal abuse.  You'll either love this story or be completely repulsed by it.
"The Executioner" by William Godwin is the confession of a hangman who's become involved in a years-long and highly elaborate revenge scheme.  But is he the revenger or the revengee?
Finishing out the book is The String of Pearls; or, Sweeney Todd, the Demon Barber of Fleet Street by James Malcolm Rymer (probably.)  This is a true penny dreadful serial, full of twists, murder and unlikely coincidences.  (You may have seen the musical.)
In the 18th Century, a man named Thornhill comes to London to deliver a pearl necklace to pretty maiden Johanna Oakley from her lost love Mark Ingestrie.  But being a gentleman, he doesn't want to look scruffy for the visit, so decides to get a shave at the shop of Sweeney Todd.  Mr. Todd says Mr. Thornhill left his shop hours ago, but Mr. Thornhill's dog is sitting right outside, and the man never arrived at his next destination.  Although they can prove nothing, Mr. Thornhill's friends become suspicious.
Across the square, Mrs. Lovett's pieshop is doing land office business, selling the most delicious meat pies in town.  How does she manage to sell them so inexpensively and still make a profit?  And why does she run through so many cooks in the underground bakery?
And on another side of the square, parishioners at St. Duncan's are beginning to notice a peculiar smell in the old church, a smell that is decidedly…unholy.
This is a fun, if not always coherent story told with a lot of verve.  (And, alas, some excess verbiage.)  The narrator has fun with the reader, reminding them that while all the clues seem to lead up to Sweeney Todd murdering his customers, we've never seen him murder anyone on-page.  And while the secret of Mrs. Lovett's pie-shop (not just a hole in the wall eating establishment, but a distribution center delivering all over London) seems obvious enough, the narrator points out he hasn't actually said it yet.
While the story stops every so often to give the history of this minor character or that (warning: one character's backstory involves child neglect and abuse), we never do find out how Sweeney Todd and Mrs. Lovett formed their eight year partnership, or why.  One of the peculiarities of the story is that while Mr. Todd knows a woman who will bake his victims into pie, and a crooked mad-house operator who will imprison any of Mr. Todd's young apprentices who get too nosy, he doesn't know any fences, and is completely unfamiliar with the normal criminal life of London.
So Sweeney Todd has a houseful of loot he's taken from victims and not found a way to sell, and has a dickens of a time trying to dispose of the string of pearls at anywhere near their real value.
Johanna comes close to the damsel in distress stereotype, but never quite crosses over into that territory, even while dressing as a boy to infiltrate Mr. Todd's barbershop.
A couple of characters just get dropped between chapters, and domestic abuse is played for laughs in one scene.
This is not great literature, true, but if you're in the mood for this sort of thing, this is the sort of thing you will enjoy.
Overall, a good collection of a certain type of story, with a handful of mediocre entries.  The Barnes & Noble edition has a handsome red leather cover and would look good on a bookshelf, or in your hands as you read it late at night by the light of a guttering candlestick.
Now, here's a look at the "Penny Dreadful" TV series, based on the same source material.