Book Review: Second Street Station by Lawrence H. Levy
The "historical mystery" sub-genre is the intersection of the mystery and historical fiction genres.   Pick a time period in the past (there's no minimum gap requirement, but it's best to pick one far enough back that everyone involved is conveniently dead), research it, stir some real life people and events into a fictional murder, and voila!  Many such have become well-loved mystery series.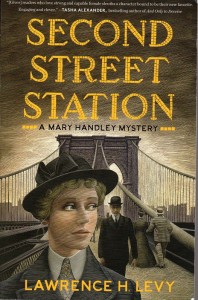 This particular volume is set in Brooklyn (still a separate city from New York at the time) in the 1880s.  The combination of a  high-profile murder case and political pressure from women's groups results in Chief Campbell of the Second Street Station police to hire Mary Handley as Brooklyn's first female police detective.  As Mary investigates the Goodrich murder, she must battle not only sexism, but the power of wealthy men who have dark secrets, and an unsuspected enemy from her past.
This story is very loosely based on a real life murder case, so don't Google 'Mary Handley" if you're going to read this book, as it will reveal a huge spoiler.  However, a lot of extra plot has been added around those bare bones to make this a novel.   It is kind of fun to watch Mary being all competent and smart-mouthed (the author's background in sitcom writing shows in her ready witticisms).
Mary Handley has very 21st Century attitudes, while the "bad guys" have more period-appropriate 19th Century prejudices.  This sometimes makes it feel like the writer is trying to appeal to modern readers more than trying to present an authentic feel to the story.  One glaring example is that Mary just happens to befriend a Chinese immigrant family whose father just happens to be a jujitsu master and teach Mary his skills.    Why a Chinese immigrant is a master of the traditionally Japanese art of jujitsu is never explained.
Remember what I said about the real-life people being conveniently dead?  This is important as Thomas Edison gets a "historical villain upgrade", being even more vile (probably) than he was in actual history.   That'd be a clear case for libel if he were still around.  Oddly enough, one of the plot elements here reminded me of the Milestone Comics title Hardware; those familiar with that series will spot it too.
A lot of space is devoted to cocaine, still legal at that point, as Mary interacts with the Pembertons, inventors of Coca-Cola.
There is also a character referred to as "Bowler Hat" after his favorite headgear.  He is important to Mary's life in several ways, mostly negative, though it's clear from early on that he's not involved in the murder she's investigating.
In addition to the expected violence and some consensual sex, there is a gratuitous rape scene.  I was not pleased.  Mary's also a bit of a potty-mouth.
All in all, the story is fanciful and readers should not think about it too hard lest it fall apart at the seams.  It's diverting, but flawed.
Disclaimer:  I received this book from Blogging for Books on the premise that I would read and review it.  No other compensation is involved.