Comic Book Review: World of the Dragonlords written by Byron Erickson, art by Giorgio Cavazzano
Donald Duck has read another self-improvement book.  This one is about family togetherness, so Donald drags his nephews Huey, Dewey and Louie and Uncle Scrooge out to a picnic in the woods.    None of them are particularly keen on this; the nephews have a movie audition to get to, and Scrooge is spending his time assessing the forest for lumber profits.  Just as Donald is reaching the end of his temper (admittedly a short journey), a hole opens in the air, bringing forth two odd pink-skinned beings called "humans", followed quickly by three "Morgs" riding dragons!  Picnic called on account of adventure!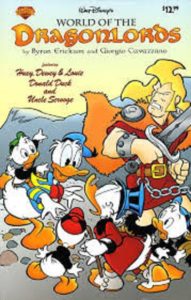 Those of you who don't follow comic books may be unaware that Walt Disney continues to license out its cartoon characters like Mickey Mouse, Goofy and especially Donald Duck to be published in comic books both in America and around the world.  Thanks in large part to artist/writer Carl Barks, who invented Scrooge McDuck and many other characters, the duck stories have a reasonably coherent setting and loose continuity.  The Duck family primarily lives in Duckburg, in the state of Calisota.  Donald takes care of his three nephews after their father "went away" (early on, their misbehavior was legendary) and sometimes does odd jobs for his Uncle Scrooge, when he isn't employed elsewhere.   The family often goes off on adventures together.
This particular epic storyline was originally produced for the German Disney comics, as they were having a sales slump at the time.   It took two years to get it ready, by which time the sales had rebounded and the editor of the main magazine was no longer interested in such a long and radically different tale.  Dragonlords sat in a drawer for a few years until a magazine aimed at older Disney fans picked it up, then it got collected in a special Finnish edition, which this volume is a translation of.
Back to our story.  The humans are the mighty warrior Brendon, leader of the human resistance against the Morg invaders, and the slightly airheaded wizard Hintermann, who opened up the portal from Our Mother (what the humans call their world) to Earth.   The Morg have both firebreathing dragons to fly on, and solar-powered lightning spears.  What they don't have is good teamwork.  While the Morg are able to knock out the local ducks and capture them, at the cost of stranding one of their warriors, Brendon and Hintermann are able to get back through the portal and escape. Group Leader Snark decides to take the ducks back to Morgworld (what the Morgs call it) to sell as slaves.
Huey, Dewey and Louie wind up in the dragon stable run by Clarg, a stupid and lazy Morg.  They learn that the dragons are vegetarians and normally peaceful, and their kindness soon allows the triplets to tame a trio of baby dragons.  However, they also learn that the Morg use electrical torture and other cruelties to turn their dragon mounts into obedient war machines.  The good news is that the boys are able to make contact with the city's human resistance, as exemplified by former stable boy Jute.
Donald winds up in the armory, polishing weapons and getting up close and personal demonstrations of how they work.  Uncle Scrooge, however, becomes the servant of Lord Moraq, ruler of the fortress city Toom.  He soon takes advantage of this by driving a wedge between Moraq and his immediate subordinate, General Hyrrr.
Back in Duckburg, Daisy Duck starts getting worried about the boys, and starts trying to figure out what happened to them.  (Her rescue effort only fails by dint of not being fast enough.)  Meanwhile, stranded Morg warrior Groob must make his way in a world of duck people.
The Morg culture is kind of stereotype baddies; based primarily on who can beat up who, with little seen of loyalty or honor.  There are civilian Morg, but we never see them (or any mention of female Morg, if such things exist.)  The Morg also don't use pronouns to make them sound less educated.
Chapter 11 (of 12) is especially striking as the writer chose to make it an almost entirely silent one, allowing the excellent art of Cavazzano to take the fore.
For those of you who are shipping fans, the story does absolutely nothing to stand in the way of shipping Brendon and Hintermann together; even framing them together in a "family" moment.  Or they could just be really good friends of course.
In the end, "family" is what the story is all about, as the Ducks may not be into forced togetherness, but always seek each other out when separated.
Recommended for the intersection of Disney Duck fans and epic fantasy fans, from late elementary school readers on up.
And now, the opening theme for the new Ducktales cartoon, since it has several of the same characters: