Manga Review: Voice Over!  Seiyu Academy, Vol. 2 by Maki Minami
Quick recap:  Hime Kino wants to be a seiyuu (voice actor) and play one of the heroines on the long running magical girl show Lovely Blazer.  Standing between her and this goal is her voice, which sounds more like someone doing their best raspy Batman imitation.  Despite this, Hime has enrolled in Holly Academy's voice acting program.  Dumped in with a group of other problem students tagged the "Stragglers", Hime must learn to overcome her issues.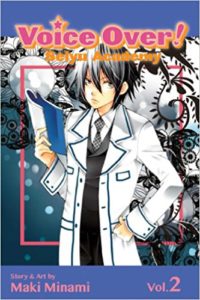 In the previous volume, the Stragglers had scored a surprise hit in a lunchtime performance thanks to Hime accidentally discovering her "prince" voice.  It still sounds too masculine for her tastes, but in a way that is pleasant to the ear.  Now expectations are high for their next performance in a month's time.
They reach out to a talented girl in the animation program to help them create a short anime.  Problem:  Ume Ichigo was the head of the Aqua idol team fan club, and has fallen out of love with them since Hime accidentally exposed their nastier personality traits.  And without a crush, Ume doesn't have the romantic inspiration to create art!
After some shenanigans, including trying to set Ume up with the girl-shy Takayanagi, a compromise is reached and the performance can go ahead.
As that storyline is wrapping up, Aqua's manager, Haruka Yamada, comes back into the picture.  Despite Hime's many flaws as a voice actor, he sees a certain amount of potential in her, and wants to use her for a few projects.
Hime's home life comes more into focus here.  Hime's mother has long since given up on Hime ever amounting to anything, and has put her hopes on her pretty and talented younger daughter Akane.  Mom is boggled by Yamada's interest in Hime, but is "sure.  fine.  whatever.  Just don't come whining to me when Hime fails.  Again."
Yamada is not exactly a nice person, being far too fond of trolling people, but he recognizes a toxic environment when he sees one.  So he offers Hime the chance to prove herself, including being able to live in her own efficiency apartment.  The catch is that Hime must work under an assumed name, disguised as a boy!
This really doesn't sound like the road to playing a cute magical girl!  Can Hime pull it off?
The art remains good, and the high school soap opera aspects work well; the part where Ume is convinced she has to have a male crush to make her art sparkle is a bit cringy, but it's shown as being silly and in the end Ume learns better.  Friendship works just fine!
This continues to be suitable for junior high students on up, but parents of younger readers may want to talk with them about parental favoritism and emotional abuse.  Most importantly, it's shown that Hime hasn't realized this situation isn't normal.  Yamada and the readers can recognize it, because we come in from the outside, but Hime has had to live with this for years.
Recommended for young anime and cartoon fans who want to learn more about the business of voice acting.