Comic Book Review: Blue Monday, Vol. 2: Absolute Beginners by Chynna Clugston Flores
Disclaimer:  I received this volume through a Goodreads giveaway for the purpose of writing this review.  No other compensation was offered or requested.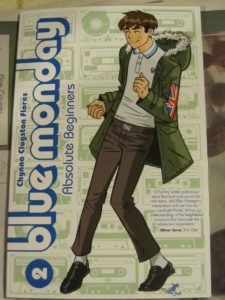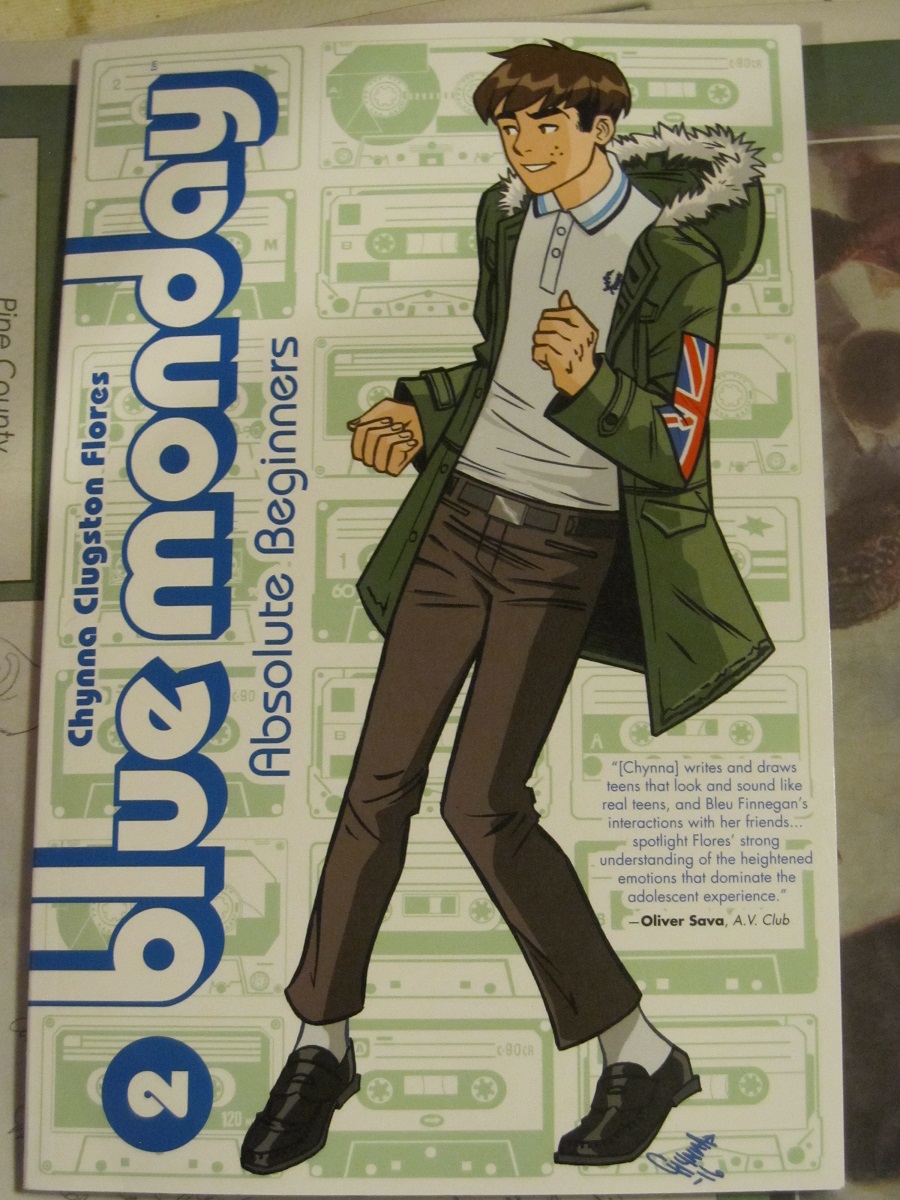 Bleu L. Finnegan isn't precisely your normal high school girl growing up in 1990s Northern California.  For one thing, there's the blue hair, which she's had since at least elementary school (though it's not clear if it's natural.)  She's also way more into then-contemporary musicians than the average person, and most of the people she hangs out with are equally excited about such things.
Bleu is also very typical of teenage girls, simultaneously interested in and disgusted by teenage boys, and with a schoolgirl crush on handsome Jefferson High teacher Mr. Bishop.  Oh, and for some reason a pooka named Seamus has taken an interest in her.  Maybe not so typical after all.
This was Chynna Clugston Flores' first series, created when she was barely older than the characters she was writing.  It had a manga-esque art style back when that was uncommon and innovative.  It also had musical cues for which songs should be playing at any point in the story–I think that will be most evocative for Nineties kids, as some of the references have faded in the past twenty years.
In many ways, this is like a naughtier version of the classic Archie Comics formula; romantic hijinks, comedy and a touch of the supernatural.  The kids are rather more open about the sexual nature of their attractions, use more foul language than I am comfortable with (and yet sometimes use comic-book symbol swearing instead), and consume alcohol.  On the other hand, the teenagers are not actually sexually active (as of this volume), and the nudity tends to be peek-a-boo.
In this volume, a fancy-dress party is ruined by too much booze, which leads to a couple of the boys taking a video of Bleu bathing.  The fallout of this leads to continued embarrassment for our protagonist, as the contents of the video are vastly exaggerated by gossip.  One of the boys, Alan Jackson, finally admits he's interested in Bleu and tries to ask her out on a date, despite the girls thrashing him in soccer.
That date turns into a disaster, largely because their friends are pulling a series of pranks on the couple.  Teenagers are mean!
It seems that whatever town Jefferson High is in, it has a high Irish-American population, though only Clover Connelly's family appears to be directly from the Emerald Isle.  And then there's "Monkeyboy" whose hairstyle hides his eyes at all times.
The art has been recolored by Jordie Bellaire, who did a very good job except for one obvious goof–or perhaps that happened in post-production.
This will, I think, most appeal to Nineties kids who enjoyed the series when it first appeared, but should be suitable for older teenagers on up who enjoy romantic comedy.