Book Review: The Avon Fantasy Reader edited by Donald A. Wollheim and George Ernsberger
Avon Fantasy Reader was a pulp magazine that reprinted fantasy and science fiction stories for eighteen issues starting in 1946.   It featured some doozies from authors who'd since become well-known, or were classics in their own right.  In 1968, this paperback tribute to the magazine featuring the best dark fantasy and horror stories was published.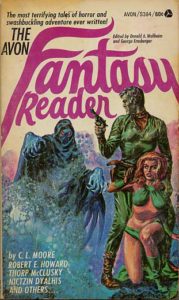 "The Witch from Hell's Kitchen" by Robert E. Howard starts us off with a tale of Pyrrhas the Argive.  A barbarian who has come to the civilized but haunted lands of Mesopotamia, he finds himself haunted by dreams of a winged woman with fangs.  Or are they dreams?  Realizing he's been cursed, Pyrrhas must seek out the one mage who might know how to fight this evil magic.  The problem is that Gimil-ishbi is equally wicked, surely not to be trusted.
Pyrrhas is not as iconic a character as Conan the Cimmerian, but is much in the same mold.  His mighty thews and propensity for violence serve the barbarian well.  Content note:  he beats his slave until he gets information out of her–the subsequent dialogue suggests this was a spanking.
"Black Thirst" by C.L. Moore is the story featured on the Grey Morrow cover.  Two-fisted drifter Northwest Smith is lurking on a Venusian side street for reasons that are never explained but don't really matter.  He's interrupted by the appearance of the most beautiful woman he's ever seen.  And that's not just pulp romance hyperbole.
Vaudir is a member of the Vinga, an apparently all-female subset of humanity bred for beauty and rented out to the wealthy and powerful by their masters, the Alendar, who may or may not be human themselves, or even mortal.  Vaudir needed a man for some heavy lifting, but when she meets Northwest, his reputation convinces Vaudir that she could use him…another way.
Y'see, Vaudir is defective, not as beautiful as the high-class Vinga which no one outside their palace has ever seen.  But she possesses a remarkable amount of intelligence and curiosity, and has discovered one of the secrets of the Alendar.  And they know this.  Perhaps if Vaudir has the renowned Northwest Smith at her side, she can survive….
What makes this story especially interesting is that author C.L. Moore is a woman (like many women writing in the speculative fiction field, she used her initials for a gender-neutral name.)  Thus the theme of women being valued only for their physical beauty and being exploited by a male(ish) authority figure has a deeper resonance.
This is really Vaudir's story, and Northwest is a passive observer through most of it.   Which isn't to say he's unimportant.  It becomes evident that the Alendar hasn't been able to honestly talk with anyone in ages, and like a Bond villain feels the need to explain the master plan so Northwest will understand why he's about to die.  That gives Vaudir time to do what she needs to do.
"A Victim of Higher Space" by Algernon Blackwood features his series character John Silence, a physician specializing in paranormal disorders.  In this case, Mudge, a self-taught mathematician and philosopher, has discovered a way to project himself into the dimensions "higher" than the three we know.  Which is totally cool, except for the part where he can't control it very well, and is often sent off into the fourth dimension by (among other things) the music of Wagner.  Can John Silence help this man return to normal space permanently?
Not the best of the John Silence stories; more silly than anything else.  It has some nice touches, though, stating that 90% of the people who seek out Mr. Silence are just kooks, and the elaborate precautions he takes to protect himself from "patients" who don't like him telling them that.
"The Sapphire Siren" by Nictzin Dyalhis has an ordinary but unlucky fellow from Earth suddenly transported to a fantasy realm to overthrow an evil usurper.  Taken straight, this would be a very bad story, which leads me to believe it's in fact a deadpan parody of the subgenre.
Read that way, the story becomes hilarious.  Our initially nameless forty-eight-year-old protagonist is such a screw-up that his life on Earth is hopeless, so he just stares really hard at a wall and wishes for a doorway to another world to open.  Once it actually does, our hero learns that he is actually King Karan of Octolan, a kick-butt warrior and rightful ruler who was cursed with amnesia and exiled to a miserable existence on Earth by the evil sorcerer who stole his throne.
Karan starts with only his loyal servant Zarf, but soon a random act of kindness (meant as a joke) secures an alliance with Koto, a half-elemental Hybrid.   And with Koto's ludicrously powerful but easily manipulated Red Elemental father.  They begin the dangerous cross-country trek to secure the services of the one mage who might be able to restore Karan's memories, despite being just as evil as the usurper.
Oh, and of course Karan has a hot wife who is totally loyal to him, but is kidnapped for most of the story and thus relevant only as a reward at the end.
"A Voice in the Night" by William Hope Hodgson takes place on a dark, starless night somewhere in the South Pacific.  A ship is hailed by an unseen person in a boat who begs for supplies.  This person insists that they cannot come aboard, and the watch officer hears the sincerity and finds a way to lower supplies without the boats touching.
Then the voice tells the story of how he and his fiancee were stranded by a sinking ship and came to a small island.  For a while, life was good, despite the constant presence of an odd fungus.  Bit by bit, the true horror of their situation became clear to them.  As the sun rises, the unseen person rows away, but there is just enough light for the sailors to see that the shape of the rower is not human.
An effectively creepy story, which was made into a Japanese movie I like.
"The Crawling Horror" by Thorp McCluskey concerns a farm where something is killing and replacing animals.  It started with the rats and the cat, and graduated to the dogs; it's pretty easy to see where this is going.
The simple farmer is in fact pretty savvy in dealing with this menace, except for the part where he doesn't just flee; it's the educated narrator that screws everything up and leads to the ambiguous ending.
"The Kelpie" by Manly Wade Wellman is a short shock tale to fill out the volume.  A scientist gets a shipment of Scottish water plants, with an extra little surprise.  Has the cliche of a man dismissing a woman's testimony as overactive imagination.
Overall, a good collection of stories that haven't been over-anthologized, with the Moore and Hodgson stories being the best of the lot.  Recommended if you can find it!
And now, the Japanese movie I was talking about: