Manga Review: Mysterious Girlfriend X #1 by Riichi Ueshiba
Akira Tsubaki is a normal 17-year-old high school student.  New student Mikoto Urabe appears to be anything but normal.  Her bangs cover her eyes, she sleeps during lunch and class breaks, bursts out laughing in the middle of class for no apparent reason and carries scissors in her panties.  All very odd and mysterious.  One day, Tsubaki wakes Urabe up after school is over, and notices that she's left a puddle of drool on her desk.  Impulsively, he tastes it.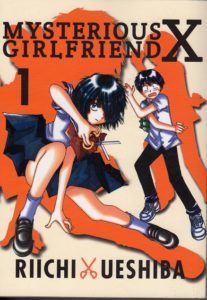 That night, Tsubaki has a dream set in a bizarre cityscape, and he and Urabe dance together.  A couple of days later, Tsubaki falls ill for a week.  Urabe hears people talking about it and puts together what's happened.  She visits Tsubaki's home, lying to Tsubaki's older sister about why she's there, and lets Tsubaki taste some of her drool off her finger.  He feels better, and she explains that he's now addicted to her spit.  Why?  "That's just the way I am."
Over time, Urabe lets Tsubaki taste her drool on a daily basis, and sometimes she tastes his.  Eventually, they become a couple, though Tsubaki is still baffled by his mysterious girlfriend.
This seinen (young men's) manga ran in the monthly Afternoon magazine, and this edition contains the first two Japanese volumes.  The author mentions in his notes that the lead characters are seventeen so that there is a question as to whether sex will happen.  (A couple of years younger, they definitely wouldn't in this kind of story, a couple of years older,  and they definitely would.)  That doesn't happen in this volume, though there is male-oriented fanservice and one outright nudity scene.  Mr. Ueshiba has gone on record that he thinks too many young people rush straight to sex when they're in love, and he wanted to show a couple enjoying other ways of connecting (some quite kinky) that don't involve putting Tab A into Slot B.
Tsubaki, as the "normal" boy, is kind of bland.  He has normal sexual urges and a pleasant way about him.  He does quickly learn to let Urabe take the lead in how fast she wants to take the relationship and what they will be doing.  He also figures out quickly ways of reassuring her about his faithfulness while still having other female friends.
Urabe is fiercely protective of her secrets.  Where did she get her saliva-based psychic powers?  How did she learn her ability to cut through anything with safety scissors? Why is she so sensitive about being touched without her permission?  What does she do outside school when she's not with Tsubaki?  All deflected with "that's just the way I am" or ignored.  She's also not one to ask unsolicited questions, so only slowly learns about Tsubaki's background.
We do learn that swapping spit only has unusual effects with people Urabe has a connection of some kind with.  She also turns out to be very normal in some ways, liking cute kittens and being shy about wearing a bikini.  Her bedroom also looks normal, but her family is not home at the time so we don't get any information on them.
There's another couple that appears frequently, Tsubaki's friend Ueno and his tiny sweetheart Oka (who becomes Urabe's first female friend.)    They have a more "normal" relationship and Oka helps Urabe open up a bit to social interaction and eating lunch.
As mentioned, there's a fair amount of kinkiness and it's very male-oriented–I think it will appeal most to senior high male readers and up who like romance with a bit of mysteriousness attached.