Manga Review: Platinum End Volume 2 story by Tsugumi Ohba, art by Takeshi Obata
Quick recap:  Up until now, Mirai has had a miserable life as an orphan with an abusive family.  When he tried to commit suicide, Mirai was rescued by Nasse, an angel who had enlisted the boy in a contest to choose the next God.  There were twelve other candidates, but one was murdered by a person dressed as Metropoliman, a TV superhero.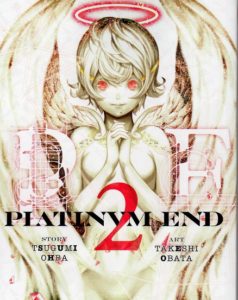 This volume opens with last time's cliffhanger, as Mirai is stabbed with a love-inducing red arrow.  The culprit turns out to be Saki, the girl Mirai already had a crush on.  (And it would seem she reciprocates.)  This might not be so bad, except that the red arrows induce not normal love, but slavish absolute devotion.
We're also introduced to Saki's partner, Revel the Angel of Trickery.  He'd prefer to be titled the Angel of Tactics but honestly isn't that smart.  After some negotiation, it's decided the four will team up against the murderous Metropoliman.
Meanwhile, Metropoliman continues fighting petty crime to keep up his superhero disguise.  He's getting frustrated because his challenge to fight the other god candidates is not bearing fruit.  (Unsurprisingly, none of them wants to die.)  He decides to switch tactics and offer to negotiate with the other candidates at an open-air stadium.  (This would theoretically allow them to fly away if the negotiations go badly.)
What follows is the Ohba trademark plan vs. plan battle, involving multiple disguises, mind control and misdirection.  Mirai and Saki manage to escape with their lives, but it's clear that Metropoliman is much more than they can handle.  Where can they get allies?
Good:  The art continues to impress, and the characters that are supposed to be intelligent really do come across as smart.  Nasse continues to be nicely creepy.  She's an Angel of Purity, not an angel of good, and freely admits feeling nothing when humans other than Mirai die.
Not so good:  Female characters other than Nasse are poorly developed and lack personality.  (I am told Saki will improve in later volumes.)  Most of the female angels are drawn as Victoria's Secret models with wings and the lingerie fused with their bodies.
Content note:  Metropoliman absolutely will murder small children to get what he wants.  We're also told that all the god candidates live in Japan due to its high suicide rate.  This is a Mature Readers title.
Most recommended for fans of Death Note.