Book Review: Twin Cities Speculations: An Anthology of Sci-Fi and Fantasy edited by Eric Binfet
As I may have mentioned before, I have a soft spot for local writers, of which Minnesota has many.  One Twin Cities writers' group got together and self-published an anthology, and here we are.  Eight stories of SF and fantasy, all first officially published in this book.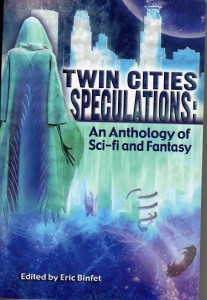 The opener is "Space Aliens on Maple Lake" by Bill Cutler.  It is ice-fishing season, and a downed alien spacecraft lands on Maple Lake.  The aliens need to avoid detection by pretending to be an ordinary ice fishing shack, but will they be able to fool the Earthlings?  Light comedy with Minnesota stereotypes.
"The Cursed Years" by  Cecelia Isaac is the only story with no mention of Minnesota, being set in a fantasy world.  The protagonist, Py, is cursed to wander far from his kingdom for seven years.  He starts his journey  voluntarily in an effort to make the curse less onerous, but soon discovers even thinking about returning home is dangerous.  He acquires a talking sword, and an actual goal when he learns there may be a way to break the curse.  This is one of the better stories in the volume, and has an obvious sequel hook–it could also be turned into a doorstopper trilogy with enough padding.
"The Harry Hawkins Experience" by Jonathan Rogers has a would-be biographer tagging along with the title character, a wealthy adventurer.  They investigate a tomb with restless inhabitants.  The writer is a filmmaker, and it shows with a very "this could be a movie" feel.  Sadly, Mr. Hawkins is an annoying character who is supposed to become more endearing as the story wears on, but doesn't.
"Heaven Help Me" by Lindsey Loree is a monologue by a fallen guardian angel.  Turns out that Heaven is very judgmental and not at all big on redemption.  The protagonist unwittingly helps set an alternative plan in motion.
"Robbing the Grave" by Eric Binfet concerns a guilt-ridden man having dreams that seem to predict the future…and the future is murder.  Is this his dead brother giving him another chance to prevent innocent life from being taken, or just his guilt finally causing a permanent breakdown?  There's an in-joke for Marvel Comics fans, and an interesting police character.  The protagonist's relationships with his best friend and girlfriend come off a bit tedious.
"Kreet" by Tina S. Murphy is about a grif, an insectoid creature, named Sooe Han-Cen who is going into the desert to find the stronghold of the titular Kreet.  The Kreet are an invasive species with an explosive population curve, and a penchant for eating grif.  Sooe's mission is complicated by all her fellow Agents having already been eaten, and the presence of a foolish treasure hunter who thinks she's trying to steal his goodies.  This is the longest story in the volume, and comes with an extended coda that reveals the consequences of Sooe's mission from a different perspective.
"Volunteers" by Susan L. Hansen is told in reverse order, starting with the heroes having had successes against the alien slavers called Jakooma, and flashing ever back to how they got there.  The most imaginative bit is the psychic whose powers are normally kind of useless due to the future changing every time someone makes a decision, but in dire circumstances that narrow the possibilities, becomes Earth's one hope for freedom.
And the book closes with "LOST" by Lizzie Scott.  Lilith, grieving the loss of her husband and children, has isolated herself in a remote farmhouse.  During a blizzard, a very lost little girl  named Pyry shows up on her doorstep, and Lilith must put aside her own problems to help the child.  But what she does may be more dangerous to Pyry than the thing that got the girl lost in the first place!  This too was a good story, that followed through on its fantasy concept well.
I regret to say that spellchecker typos, the bane of self-publishing editors, are frequent, especially in "Kreet."
Overall, a decent enough collection of stories, but mostly of local interest to Minnesotans.  Others might want to invest in case one of the writers eventually becomes famous.