Book Review: Herblock at Large by Herbert Block.
Herbert "Herblock" Block (1909-2001) was a multiple-Pulitzer-winning editorial cartoonist.  He's most famous for his coverage of McCarthyism and Watergate, but kept working until just before his death.  This 1987 collection covers the early years of the Reagan administration.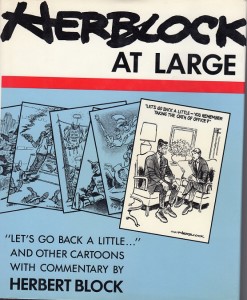 As might be expected, these cartoons aren't very kind to that administration.  From an Attorney General who was more concerned with "proving" pornography caused violence than with tracking down illegal arms shipments to America's enemies, to the heavy influence of the Religious Right on the government, to the dubious Supreme Court nominations (the Senate finally balked at Robert Bork), there were a lot of things to criticize.
Iran-Contra gets a lot of play here, as does the fact that under Reagan's "fiscally responsible" administration, the national deficit and debt both skyrocketed.  (A feat that would be repeated by his fiscally responsible Republican successors, while the fiscally irresponsible Democrats brought down those numbers.)  The rise of televangelists also came in for several cartoons, contrasting the prosperous preachers with the poverty-stricken viewers who donated to them.
Now, of course, we know that Ronald Reagan really was having memory problems at the time, early symptoms of his Alzheimer's.  The cartoons about terrorists hijacking airplanes also take on a new connotation since that subject came to a head.
There are also text pieces by Herblock introducing the themed chapters, clarifying his views if the cartoons weren't pointed enough.  One bit of information is helpful for those who did not live through those times–Mr. Block often drew the Secretary of Defense with a $640 toilet seat around his neck as that was one of the ludicrously expensive trivialities the military was spending tax money on instead of servicemembers' salaries.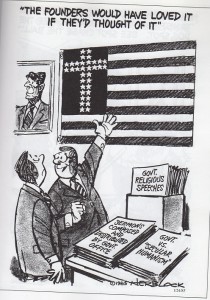 One subject where we have seen improvement is South Africa; back then apartheid and anti-equality violence were still the order of the day, with Reagan refusing to do anything that might make the white minority government feel the U.S. was unfriendly to them (what with them being anti-Communist and all, which was why we were allies with a lot of nasty regimes back then.)
This is perhaps not Herblock's best work, but it's still very good political cartooning, and a window into the issues facing America in the early 1980s.  Recommended for those who lived through the era and need a reminder, and those that want to know about the time before cell phones.