Book Review: My Ultimate Super Hero Manual by Steve Behling
Almost every comic book-loving kid has gone through a phase when they seriously wanted to be a superhero.  Wearing a flashy costume, having neat powers, hanging out with people like Spider-Man and Storm; what's not to love?   At the very least, designing your own super hero character can be a blast.  And this book is meant to help you do just that!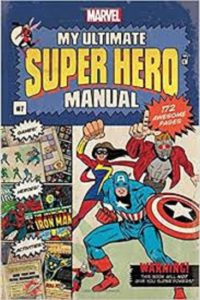 It's a children's activity book from the folks who bring you Marvel Comics.  There are pencil and paper exercises, but also ways to make homebrew "superpowers" and costumes.  (Be sure to ask your parents' permission.  If you are an orphan, you're already halfway down the road to being a superhero, but ask your guardian's permission anyway.)  There's even special dice you can put together to play games.
There's a plethora of Marvel superheros and villains shown or mentioned–some jokes will only be gotten by long-time fans, but most of the humor is accessible by kids.  (There's even an index for us scholarly types!)  New art is by Juan Ortiz, while other pieces are reprinted from classic Marvel comics and not individually credited.  (Thanks, "work for hire" contracts!)   Marvel's female heroes are under-represented.
As a long-time Marvel Comics fan, I have a soft spot for books like this.  At a guess, I'd recommend it to kids from 4th to 6th grade, maybe younger under close supervision, plus old-timers like me who will get all the obscure references.   And the physical copy is recommended far more than the Kindle version–have you ever tried drawing in a Kindle file?