Book Review: Shanghai 1937 by Peter Harmsen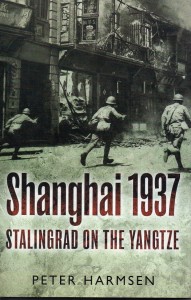 Disclaimer:  I received this book in a Goodreads giveaway on the premise that I would review it.  This is my 25th win!
This is the first English-language book specifically about the battle for Shanghai in 1937, which is considered by some to be the start of the Asian portion of World War Two.  It's notable for having unusually comprehensive press coverage for the time.  This was because both the Chinese and Japanese were very careful to involve the foreign quarter of Shanghai in the fighting as little as possible.  Neither of them wanted the Western nations to side with the other due to attacks on their citizens.
What that means is that there's a wealth of contemporary sources of information about the battle, even if it's obscure now because of the larger conflicts that followed.  AFP reporter Peter Harmsen has woven this into a chronological retelling of the conflict.  There are accounts from both the Chinese and Japanese soldiers, as well as the foreign observers.
A couple of points that stuck out to me:  having the large foreign quarter be neutral ground created tactical problems for both sides, and both sides frequently made tactical blunders that prolonged the three month battle.  Chiang Kai-shek does not come off at all well, demonstrating the qualities that would eventually result in his retreat to Taiwan.
There are excellent photos and maps, as well as the battle order.  There are copious footnotes, bibliography,and an index.  The prose is clear and understandable
This volume is a bit pricey at $32.95, but will be worth it to the World War II and military history buffs.  Everyone else should check it out at the library.