Comic Book Review: Showcase Presents: DC Comics Presents Superman Team-Ups Volume 2 edited by Julius Schwartz
The dedicated rotating team-up series was a huge boon for DC Comics and Marvel back in the day.  A top-selling character anchors the book (in this case Superman) and rotating guest stars got a chance to shine.  Some appearances were to promote their own new series, others were to wrap up a plot of a recently canceled book, even more were to make sure DC kept the trademark on a less active character in house, and a few were just because the writer had a cool idea for a story.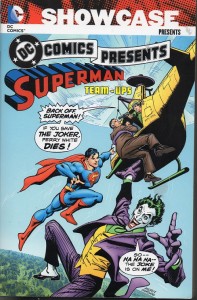 Volume 2 covers from 1980 to 1982, including the first annual and issue #50.  We start with a three-parter introducing Jim Starlin-created villain Mongul and his quest for a Warworld of his very own.  One of the problems with writing Superman team-ups is creating menaces that both challenge the Man of Tomorrow and allow the guest star to contribute.  Mongul tended towards the "stronger than Superman" end, so it's a good thing the guest stars were the Martian Manhunter, Supergirl and the Spectre.
On the opposite end of the scale is Issue #39's team-up with Plastic Man, where they fought dueling villains Toyman and Dollface.  This one required heavy use of Kryptonite to slow Superman down.  Some nice Joe Staton art, and a Karl Malden joke.
#41 brings us the cover story, which is not so much Superman teaming up with the Joker, as the Joker wanting revenge on the Prankster after the very similar villain double-crosses him during their team-up.  The whole story feels very much like Martin Pasko took a Los Angeles vacation and decided to work the location into a paid script.  The story sidelines Batman with an injury as this is not World's Finest.
#42 has one of the weirder crossovers, with the Unknown Soldier, a disguise expert (real name unknown) who died in World War Two.  The Paul Levitz script is based heavily on the paranoia about nuclear war being imminent so common in the early 1980s before the Soviets blinked.
The Global Guardians had been introduced in the Superfriends tie-in comic book, but issue #46 of this series brought them into the main DC continuity.  A fun issue with some interesting wizard villains from different cultures.
#47 was a crossover with the Masters of the Universe tie-in comic book DC was doing at the time.  He-Man mentions that his mother (who is originally from Earth) had told him tales of Superman.
Annual #1 has a rare team-up of the Golden Age Superman with the then-current Man of Steel.  Their versions of Luthor change places, but still fail to overcome the other Supermen; but then they head to Earth-3 and team up with that world's evil Ultraman (who becomes stronger from Kryptonite exposure.)  Our heroes must team up with Alex Luthor, who becomes Earth-3's first superhero at the request of Lois Lane.  (This is a bit confusing as named characters on Earth-Three have flipped morality…so does this mean that regular Lois is evil?)
And we wrap up with #50, which has Superman team up with…Clark Kent?!  Alien science has separated the two, making Superman lose touch with humanity, while Clark loses much of his timid persona.  They must work together to save an alien world and California, before finding a way to merge again.
As with all the Showcase volume, these reprints are in black and white.  This is only a bit of a problem in the Plastic Man story as one of the running gags of that character is that he can look like anything and you can only spot him by his costume colors.
Sadly, the decision to concentrate only on the Superman stories means that we don't get to see the "Whatever Happened To…?" backup stories that gave some closure to obscure characters.  Some of these were small gems–I was especially affected by the sad yet stirring tale of the Crimson Avenger, who will remain in the Land of the Remembered.
Overall, the writing quality is good to excellent, with art to match (with a couple of clunkers.)  Worth looking into if one of your favorites got a team-up slot.