Manga Review: Princess Jellyfish Volume 1 by Akiko Higashimura
Amamizukan is not your average apartment building.  For one thing, it's a small, old-fashioned building of the type rarely seen these days.  More importantly, all the residents are fujoshi ("rotten women") who for one reason or another have fallen outside the society-approved get job/get husband/have kids way of life for Japanese women.  These eccentric women fear the "fashionable", and especially fashionable men, which is why Amamizukan is also know as the "Nunnery."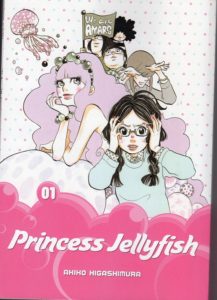 Tsukimi Kurashita is the newest resident, an aspiring illustrator with a penchant for jellyfish.  She knows all about these aquatic creatures, and is appalled to learn that the local pet shop has put two species together that will cause the death of one of them.  The shop assistant is a "fashionable", which makes Tsukimi terrified of talking to him and thus unable to speak normally, and apathetic which makes him not care to the point he physically throws her out of the store.
At this point, a "princess" appears.  A stunning, fashion-forward beauty, she nevertheless listens to Tsukimi's explanation and helps liberate "Clara" the endangered jellyfish from the store (with proper payment.)  It's very late when they arrive at Amamizukan, so the princess, a very self-confident person, invites herself to sleep over.
In the morning, however, Tsukimi is shocked to learn that her princess is named Kuranosuke, and is in fact a young man.  How the heck is she going to keep the other "Amars" from finding out she's got a boy in her room?
This josei (young women's) manga has had a short animated adaptation (available from Funimation), and a live-action movie.  In the author notes, it's revealed that the creator had an obsession with jellyfish for a few years in her teens, and she uses that in the story.  "Ama" is a word for a Buddhist nun, so "Amars" would be kind of equivalent to a women-only U.S. apartment building having residents who called themselves "Sistahs."
One of the running themes of the manga is that everyone is eccentric in their own way, even the people who seem to function well in normal society.   The Amars are just more obvious about it.  Most of them are unconventional in appearance, and entered the job market just as it crashed after the bubble economy collapsed, so were unable to find steady jobs.  So they earn a marginal living as assistants to a manga creator (who never appears on panel, being a nocturnal shut-in) and supplement this with handouts from their parents.
Kuranosuke, as it turns out, is the second son of a bigwig politician, and indulges in his hobby of dressing in women's clothing partially to create enough scandal that he'll never be forced to go into the family business, partially because he's so pretty that he looks smashing in the outfits, and partially for…other reasons.  He often clashes with his disapproving father, and to a lesser extent with his older and more dutiful half-brother Shuu, though the brothers do really care for each other.
A plotline comes in when it's revealed that Amamizukan's neighborhood is being redeveloped, and their beloved Nunnery is a target for acquisition and bulldozing.  With the Amars' crippling lack of social skills, they aren't going to make a good case against the developer's fashionable and sexy spokesperson, Inari, who has set her eye on seducing (or if that fails blackmailing) Shuu to get his father behind the project.  Kuranosuke will not let this stand, and rallies the troops for some zany scheming.
Part of this is giving the Amars makeovers.  Tsukimi's is played pretty straight, as she is much more attractive with a little makeup, no glasses and some nice clothes (which blows Shuu away, and introduces some romantic complications.)  The other Amars mostly just get "looks" that play to their strong points, and kimono aficionado Chieko is told that she doesn't need a makeover at all, just the right context–put her with well-dressed people, and she looks like a woman of substance.  It's not about making them "pretty", it's about donning "armor" to present strength to the world.
The art is good, and manages to convey who people are even when they change their appearance.
Content issues:  there's some homophobia and transphobia, as well as both virgin-shaming and slut-shaming (by different characters.)  Inari drugs and disrobes Shuu to make it appear they had sex, and marital infidelity is in the backstory and is responsible for psychological issues for both Shuu and Kuranosuke.
For the most part, this plays out like one of those Eighties movies where a ragtag group of misfits must get it together to battle an evil rich person who wants to take away something important to them.  (Fittingly, Inari seems to have gotten her behavior patterns from Eighties "business woman" manga, and sometimes slips into '80s slang.)  This book, which collects the first two Japanese volumes, only sets up the conflict, so there is still the possibility that later events will subvert the plotline.
Tsukimi is a protagonist it's easy to root for, and Kuranosuke makes a good foil for her–though it looks like he won't be hooking up with her in the end.  Most of the other characters are likable to some degree.
Recommended to people who liked the kind of Eighties movies I mentioned, and fans of innocent people falling in love.