Book Review: Next Year in Havana by Chanel Cleeton
Disclaimer:  I received this Advance Reading Copy from a Read It Forward giveaway for the purpose of writing this review.  No other compensation was offered or requested.  The final product, due out 2/6/18, may have minor changes.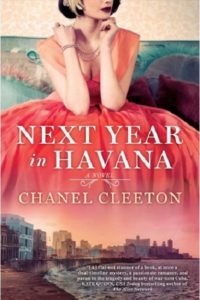 In 1958, Elisa Perez is the daughter of one of the richest families in Havana, constrained by family tradition and the patriarchal society.  Her father supports president Fulgencio Batista in order to protect their sugar industry interests, but Elisa is becoming increasingly aware of the suffering of the Cuban people at the hands of the government.  Still, are the 26th of July movement and the other revolutionaries truly the way forward?
In 2017, Marisol Ferrera takes advantage of the partial thawing of relations between Cuba and the United States following the death of Fidel Castro and her job as a lifestyles journalist to travel to the land her family has long been exiles of.  Though she knows what Cuba was from the stories of her grandmother and other relatives, Marisol has little idea of what that country is like now.  More, she's about to discover a family secret hidden all these decades.
The author, Chanel Cleeton, is herself the descendant of Cuban exiles, which inspired this dual romance book with political thriller elements.
My mother has told me of meeting Cuban exiles back in the late 1950s who eagerly hoped for the overthrow of the U.S.-backed dictator Batista so that they could go home and rebuild their country.  They hoped that Castro would keep his promises of reform and that Cuba would rise to be the prosperous, modern nation it had once been.  Mom lost touch, and has no idea what happened to them.
Elisa, nineteen, is whisked out of the house in secret by her more daring sister Beatriz to go to a party in a less prosperous part of the city.   While Beatriz meets with their disowned brother, Elisa meets an earnest lawyer, Pablo, who it turns out is an ally of Che Guevara.   They begin a forbidden courtship, kept apart by social status and the explosive political climate.
Marisol is twenty-six, and a bit more worldly wise than her grandmother had been.  Her shoes still cost more than the average Cuban makes in a year.  Elisa's best friend Ana had been forced to stay in Cuba, and has managed to make a small living as a restaurant owner.  Ana's grandson Luis is a history professor who also helps out at the restaurant, and becomes Elisa's tour guide.  As Elisa learns more about her grandmother's life before exile, she finds herself increasingly attracted to Luis.
The descriptions are lush, with many glowing descriptions of landscapes and food.
Elisa's section of the book seems surer-footed, perhaps because the passage of time has made the political outcomes clearer and that allows the author to weave the events together more closely.  Marisol's section seems designed to appeal to the viewpoint of Cuban expatriates and their loyalists, and I have to wonder how much it would ring true to Cubans who actually live in Cuba.  The political thriller elements seem more forced in that section.
Torture is mentioned, and the results are seen.
I think this book will go over well with people who are heavily into historical romance as a genre and appreciate political thriller elements sprinkled in.  It's also nice to read a book with Cuba as a setting; I've only had a handful of those.  (Check my back reviews for Mingo Dabney.)
The edition coming out in 2018 appears to be designed to be a book club selection, as there are discussion questions in the back.  Also, the sequel starring Beatriz, Elisa's sister, is already in the works and there is a chapter from that.  (And from that excerpt, it looks like more my thing.)