Manga Review: Futaba-kun Change! Vol. 1 by Hiroshi Aro
Futaba Shimeru is a junior high school student whose voice has recently changed, and has started noticing girls, especially his pretty classmate Misaki.  One day, a wrestling club teammate gives Futaba a girlie magazine, and the young fellow retreats to the boys' room to read it.  The revelation of what girls look like under their clothes is exciting, and Futaba realizes this would apply to Misaki as well, and he becomes so excited he passes out.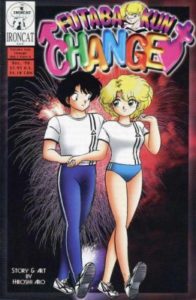 When Futaba wakes up, he is startled to discover that he himself is now possessed of female anatomy, and partially undresses to check that yes, it's for real.  It's at this point Futaba's wrestling teammates burst  in looking for him and find a half-naked girl instead.  Some scary moments and the discovery that the transformation is not permanent later, Futaba arrives home and discovers that (unbeknownst to him) his entire family switches sex on a regular basis!
This 1990s shounen manga series was a fairly blatant "follow the leader" of Rumiko Takahashi's Ranma 1/2, but soon goes off in its own direction.  Most notably, while Ranma's female form was treated more or less as a flesh disguise for the very male Ranma, Futaba's two forms are both natural to his/her biology and over the course of time he/she is able to switch mental gears as quickly as the physical changes occur.  There's also more attention to what those physical changes involve, which leads to some body function humor over the course of the story.
The series ran eight volumes with an abrupt genre change in the last volume; the author had to wrap it up because of falling sales.  It was originally brought to the U.S. by Studio Ironcat but has long been out of print.  This new version is only available on Kindle.  Nipples have been erased, and there are a couple of instances where the junior high school is referred to as "university."
Most of the characters have over the top personalities for the sake of humor; for example, Misaki is very superstitious, while her friend Negiri is a money-grubber.  This is less pleasant in the case of Futaba's older sister Futana, who is very lecherous (even hitting on Futaba!) and Mr. Sabuyama, a teacher who lusts after teenage boys.  The humor also relies heavily on selective obliviousness; not only has Futaba somehow failed to notice his entire family changing sex, but the very distinctive school principal runs around in a superhero costume every so often and his own daughter fails to make the connection.
There's a lot of male-oriented fanservice, with the occasional pretty boy tossed in.  There's also quite a bit of slapstick violence–especially in the battle tournament in later volumes.  The sexual harassment humor has not aged well.
Recommended (with reservations) for gender-bender comedy fans, and those who like Nineties manga.