Book Review: Glitter & Mayhem edited by John Klima, Lynne M Thomas & Michael Damian Thomas
Disclaimer:  I received this book in a Goodreads giveaway on the premise that I would review it.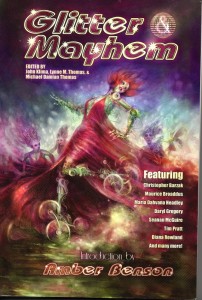 This volume is an anthology of speculative fiction short stories,  themed around dance clubs, loud parties, roller skates, sparkly light and glitter.  They're full of sex, drugs and disco music.  I've never been much of a party person myself, not being fond of noisy crowds, deafening music or flashing lights.  So I can't speak to the authenticity of the party scenes.
That said, there's a fair mixture here of fantasy, SF and horror; as well as a couple of less genre-specific pieces.  The characters are a diverse lot, men, women and less defined genders, of multiple sexualities and races.
The stories I liked best were two straight-up roller derby tales: "Apex Jump" by David J. Schwartz, about a small town derby team that gets invited to an away game that's out of this world;  and "Bad Dream Girl" by Seanan McGuire, which ties into her InCryptid series (which I have not read, but this story makes look promising.)
The introduction by Amber Benson comes off as overly pompous, and is quite skippable.  There are a number of interesting tidbits in the author bios in the back, which should help you if a story makes you want to read more of a particular writer.  This book, by the way, was a Kickstarter project, and the sponsors get their own thank you pages.  I am pleased to say that some of that money seems to have gone to competent proofreading and book design.
Trigger Warning:  The protagonist of "Subterraneans" commits rape by deception, and is not one whit repentant.
Overall:  There are a couple of standout stories, several quite decent ones, and a handful of clunkers.   If you're much more into the dance party scene than I am, or are a big Kickstarter fan, you'll probably enjoy this one enough to pay full price.  Everyone else should consider getting it from the library