Book Review: A Force So Swift: Mao, Truman and the Birth of Modern China, 1949 by Kevin Peraino
In 1949, Chen Yong was an idealistic boy in his teens, his military uniform too large for him, cheering in Beijing as Mao Zedong declared that the People's Republic of China was born.  Now, he is an old man who fondly remembers those early days, even as his memory of the specifics fades.  It was a tumultuous year, not only for China itself, but for its neighbors and the far off United States of America.   The response of America's government, as led by president Harry Truman, would have a long-lasting effect on world politics.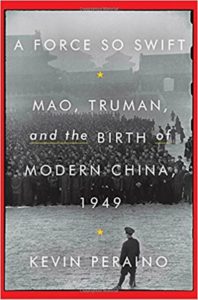 This book covers that pivotal year, from Madame Chiang's desperate mission to the States to raise sympathy and funds for the Nationalist cause, to Mao's solidification of his alliance with the Soviet Union.  It covers the major players, Generalissimo Chang, Dean Acheson, Secretary of Defense Johnson, and a Congressman from Minnesota named Walter Judd, who led the "China bloc" that tried to draw Truman into direct military support of the Nationalists, or at least giving them much more money.
Some of the people involved get much more attention than others–there's a full description of Madame Chiang's family life and childhood, but her husband is picked up only when he becomes involved with her.  (The Generalissimo spent much of the year semi-retired before deciding to evacuate to Taiwan and consolidate his forces there.)
There's also considerable time devoted to what Truman had intended to do with his time as president, as opposed to what reality had in store for him.  Sometimes, universal peace and brotherhood have to be put on hold.
Reading about Chiang's behavior as he rose to power doesn't make me think he would have been that much better as China's leader than Mao–it was an early of example of supporting terrible people in office for the sole reason of being anti-Communist.  Sadly for the Chinese, Mao turned out to be a better general than practical economist or agriculturial planner.  Plus, he let his personality cult overwhelm any real reforms.
The writing is college-level, and the vocabulary sometimes gets a bit pretentious.  All Chinese names use the modern transliteration.  There are copious end notes, with explanations of where sources differ, a small photo insert, bibliography and index.
This book is primarily valuable as a snapshot of one particular issue at a particular time– the serious scholar will want to pair this volume with a more general history of China, or a full biography of one of the major players.   That said, I recommend this book to those interested in the starting point of Red China and how it got that way.