Anime Review: Battle Athletes: On Your Mark
In the far future year of 2015, World War Three is interrupted when Earth's magnetic poles shift drastically, causing global disaster.  The silver lining is that the survivors united to form a peaceful culture that then rapidly advanced.  However, by the 31st Century, humanity was again at war, against aliens this time.  After several centuries of stalemate, a contest of champions was proposed, a series of athletic competitions.  Despite the aliens being physically superior to Terrans on average, Earth's exceptional champion succeeded in ending the war in Earth's favor.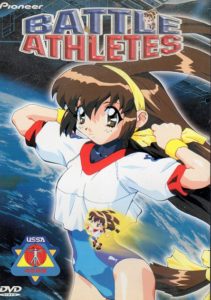 As a result, humanity has become obsessed with physical culture and athletic competition.  Female athletes compete at the University Satellite to gain the title "Cosmic Beauty."   The year is 4999, and Akari Kanzaki, daughter of former Cosmic Beauty Tomoe Midou, has come to the University Satellite to train and then compete for her own shot at the title.
There were two anime continuities for this series; I'm looking at the original OAV version of six episodes in this first DVD volume-but the television remake Battle Athletes Victory lasted 26 episodes.   The TV series drastically altered several characters' personalities and plot arcs, as well as adding more characters in general.
The first episode, "Chronicle Beginning", sketches in the backstory, then introduces our heroine, who is running (literally) late for the rocket from Earth to her new school.  We are then introduced to her buddies from training camp; Tanya, who has animalistic qualities that are never really explained and a blonde girl whose name I didn't catch and quickly becomes irrelevant.
The girls are assigned to random roommates who will be their team for the upcoming year; Tanya wanders off to find food first, while Akari checks out the training facilities.  She soon finds out the students here train at a completely different level, and spends so much time bonding with senior students that the information kiosk that would have told her where her new dorm room is has closed.
Meanwhile, painfully shy new student Anna Respighi has become hopelessly lost and innocently interrupts senior student Mylandah's visualization training.   Mylandah, who is obsessed with becoming number one, is slapping Anna around when Akari shows up.  Mylandah directs them through a deserted corridor to the new student dorm…without telling them that it's got variable gravity.  She then bullies them some more.
The girls are rescued by their third roommate, Kris Christopher, who is from the Moon and is used to operating in variable gravity environments.  She in turn is bailed out by Headmaster Grant Oldman, the champion of Earth (and not so secretly the kind of guy who pervs on teenage girls.)
Kris is thrilled to meet her roomies, and tells them she wants to feel even closer to them…while removing her clothes!
In the second episode, "Oath Entrant", Kris takes off her clothes (there's Barbie doll anatomy,) and performs a skyclad ritual.  It turns out she belongs to a Lunarian cult called the Beginners, who are into spirit worship and casual nudity.   Anna is especially freaked out by the latter due to her strong nudity taboo (but that is something that comes up in Episode Three.)
The first sport the trio is entered into is Zero-G lacrosse; which they aren't allowed to warm up for or learn the rules before being thrust into the first match…which just so happens to be against Mylandah and her anonymous teammates.   Lacking teamwork and basic information about how the sport works, Akari's team is stomped.  Akari promptly has a crisis of confidence.
Akari consults a hologrammatic display of her mother when that person was a student at the Satellite, then sets up a robotic practice room.  Mylandah sabotages the practice by altering the settings to "lethal", but this gives Anna and Kris the chance to rescue Akari and bond with her.  By the end of the lacrosse matches, Team Akari is able to win one.
This 1997 series came out before the current moe movement, but one can see the roots of that treatment here.  Akari is underconfident and emotionally vulnerable in a way designed to make male viewers protective of her, while Anna, Kris and Tanya appeal to specific fetish points.  While the focus on female athleticism is welcome, the young women with visible musculature are treated as less desirable by the camera framing and narrative flow.
Male-oriented fanservice is right up front, and Grant Oldman's sexual interest in teenage girls is treated as a lovable foible rather than a concerning flaw in a teacher.
This isn't as deep as Ender's Game, but does have a similar feel at points.  Interestingly, Japanese culture seems to have survived just fine in the internationalist future.
Recommended for male fans of female athletes; there's better anime of girls' sports actually aimed at girls.