Manga Review: Death Note Tome 10 Story by Tsugumi Ohba, Art by Takeshi Obata
Warning:  This review spoils earlier events in the series, including major plot twists.  I'll let you know when that starts happening with a SPOILERS announcement.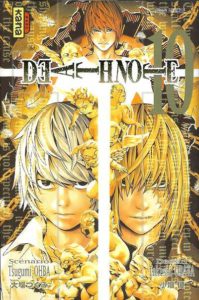 The life of a shinigami (death spirit) is pretty boring.  You sit around the shinigami realm all day gambling or snoozing or watching the mortal realm; every so often you kill a mortal with your magic notebook to extend your own ennui-ridden existence.  Ryuk is a particularly bored member of his species, when he comes up with an idea to amuse himself.
Ryuk gets hold of a spare Death Note and drops it on Earth just to see what will happen.  The lethal device falls into the hands of Light Yagami, teen prodigy and voted "Most Likely to Succeed."  Light is also somewhat disaffected, and loses his qualms about killing people (particularly criminals) by writing their names in the Death Note almost instantaneously.
Light is determined to wipe out those he deems unworthy (starting with convicted criminals) and become the vengeful god of a new paradise on Earth.  His murder spree does not go unnoticed, and soon the public is speaking of a seemingly supernatural serial killer nicknamed "Kira."  Even if they can't figure out how he's doing it, the law enforcement agencies of the Western world are determined to bring Kira to justice.
As previously mentioned, Light is a mental prodigy, particularly good at planning, and is generally five or six steps ahead of everyone else.  Until the mysterious detective "L" takes the Kira case.  Now Light is only two or three steps ahead, and L is gaining ground.  A fierce battle of wits ensues!
This 2003 manga series first appeared in Weekly Shounen Jump, where it was a bit of an outlier.  Darker and more cynical than the usual boys' comic fare, the primary draw of Death Note was that the main characters seemed actually intelligent in their clever planning and nested schemes.   It also had very good art, contrasting realistic looking scenes in the mortal world and the grotesque appearance of the supernatural Shinigami.  Each chapter reveals a rule of the Death Note–some vital, others trivial, and some seeming like patches added later.
Overall, the series is well worth reading.
SPOILERS
The volume at hand, #10, is set after the death of L.  Several years have passed, and Light has become not just the leader of the anti-Kira task force, but the new "L", which allows him to manipulate the people who might otherwise track him down.   Light was not, however, able to stop a "deadman switch" the original L had set up to alert others that he had either died or disappeared.
Wammy's House, which trained L, has produced two successors to the eccentric detective, the scarred, streetwise Mello, and childlike albino Near.  Mello aligns himself with what remains of organized crime, while Near works with a rogue unit of the FBI.
The anti-Kira task force has decamped to America, believing (thanks to Light's manipulations) that one of the other investigators may already have been compromised by Kira.  Near has captured Mogi, one of the task force, in an effort to learn what they know.
As a diversion, Light decides to have Misa give up her notebook and send it to a Japanese prosecutor named Teru Mikami, thus creating a new Kira not entirely controlled by Light.
This diversion works, and soon the main characters are back in Japan.  When Mikami gets a bit too enthusiastic in his killings, Light manipulates newscaster Kiyomi Takada, who had a crush on him in college, into sending instructions to the new Kira.
Light is still several steps ahead, but the seeds of doubt have been sown in the mind of Mogi and another Task Force member, and the two new investigators are tightening the net.
Mello and Near aren't nearly as interesting characters as L, but Mikami takes up some slack as a man who believes God is on his side, and that Kira is that god.
We also see Light's willingness to cruelly manipulate women who are interested in him; Misa, who still hasn't caught on after eight or so volumes of this treatment, and Kiyomi, who barely knows the man.  Light may well be asexual or at least aromantic; his relationship with L was so fraught with other issues it is impossible to tell how Light really felt about him.
And as usual, Light and his opponents are playing fourth-dimensional chess while everyone else just tries to survive, and Ryuk enjoys the show.
Not quite as good as the early volumes, but still suspenseful and action-packed.
And here's a bit of the animated adaptation: