Manga Review: Kitaro Meets Nurarihyon by Shigeru Mizuki
Quick recap:  Kitaro is the last surviving member of the Ghost Tribe, a once populous group of yokai (Japanese spirits/monsters.)  His father lives on in the form of an eyeball and advises the young fellow.  Together with his untrustworthy friend Nezumi-Otoko ("Rat-Man") and sometimes other friendly monsters, Kitaro acts as a mediator between humans and yokai.  (This being a comic book, often this mediation involves deadly combat.)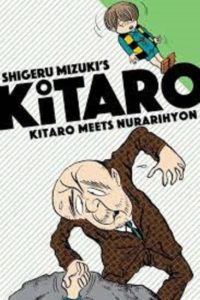 This is the second volume of Drawn & Quarterly's collection of stories from Shigeru Mizuki's classic GeGeGe no Kitaro series of children's horror manga.  It has a continuation of the history of the manga, and a handy guide to the yokai appearing in this volume in the back.
The lead story is also the one that titles this volume.  Traditionally, the nurarihyon is a humanoid creature that shows up at your house and acts as if he's an invited guest.  As long as he's there, he demands the best in food, luxuries and entertainment.  Only when the nurarihyon has finished abusing your hospitality and departs do you suddenly realize you never actually invited him in or even know who he was.
But this particular Nurarihyon is actively evil.  He hates humans and commits acts of terrorism while appearing to be a harmless old man.   Nurarihyon despises yokai that want to be friends with humans, and especially Kitaro.  He runs into Nezumi-Otoko one day at the pachinko parlor, and pretends to befriend the greedy rat-man in order to lure Kitaro into a trap.
After several twists and turns, Kitaro manages to trick Nurarihyon and his accomplice Jakotsu Baba (Snake Bone Granny) into a time machine and strands them in prehistory.   (In the anime, Nurarihyon manages to return more than once, acting as the Big Bad for a couple of larger stories.)
A kappa (water goblin) is the antagonist in "Sara Kozo", though his motive is a bit more sympathetic.  The sara kozo's secret song was stolen by rock musicians who used it to become famous, but paid no royalties.  Knowing that he has no standing in the human court system, the sara kozo decided not to sue, but instead just kidnap the thieves.  Kitaro has to get them back.
The two stories that end this volume are connected.  In "Odoro Odoro", a mad scientist attempts to find a cure for baldness, but turns himself into a malevolent hairball that thirsts for the blood of children.  Mind you, not all their blood, but since he can't afford to have them reveal what's going on, the Odoro Odoro has been stuffing them into the Spirit World for safekeeping.  Kitaro apparently vanquishes the monster at the end of the story.
But in "Odoro Odoro Versus Vampire", it turns out the creature survived.  It steals Kitaro's soul and makes him its slave.  While Kitaro is away, Nezumi Otoko becomes the mostly willing servant of Dracula IV, descendant of the famous Dracula and himself a vampire.  Eventually, the two monsters meet and engage in fierce battle.   Medama Oyaji (Eyeball Dad) plays a larger role than usual, as Kitaro is out of action for most of the story.
The art ranges from cartoony to detailed, displaying the artist's range.  This volume is suitable for horror-loving readers from fourth grade on up.  (Some sensitive parents might find it too scary.)
And just for contrast, a show where Nurarihyon is the good guy: