Manga Review: Sword Art Online: Aincrad original story by Reki Kawahara, art by Tamako Nakamura
Disclaimer:  I received this book in a Goodreads giveaway on the premise that I would review it.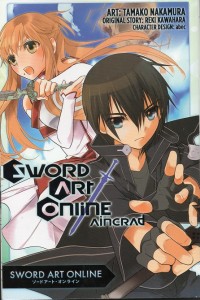 It is the year 2022, and commercially viable virtual reality equipment is now on the market.   Of course, one of the first applications that comes to mind is Massively Multiplayer Online Role Playing Games (MMORPGs), and the first one out the gate is Sword Art Online.  Kirito (his online handle, real name Kazuto Kirigaya) was one of the lucky beta testers, and is looking forward to the full launch of ten thousand players.
Except that shortly after the game begins, all the player characters are summoned back to the beginning town, remodeled to look like the players themselves, and unable to log out.  A figure who claims to be the game's designer, Akihiko Kabaya, announces that they're all trapped in the world of Aincrad, and won't be able to log out until the 100th level of the game is beaten.  Oh, and the respawn feature has been disabled, so if you die in the game, you die in real life.
And in case you were hoping for rescue from the outside?  If anyone removes the VR gear or tampers with it, it will automatically kill the player, and this has been announced to the media.
Realizing that the area around the Town of Beginnings will rapidly become too overhunted for him to level up quickly, Kirito decides to go solo, as his beta tester knowledge allows him to punch above his weight, so he can go to the next town even at first level.  He does invite along a noob (new player) named Klein, but Klein won't abandon his friends, and Kirito doesn't think he can protect more than one ally.
The story picks up again about two years later.  with the Aincrad dungeon about three-quarters cleared, at the cost of four thousand deaths.  Kirito has been very successful as a solo player, but suffers stigma as a "beater" because his character level is so much higher than most people's that he triggers monster encounters that are lethal to anyone near him.
It's at this point that Kirito runs into a girl named Asuna, who is known as "the Flash" for her superior sword skills, is highly placed in the powerful Knights of the Blood guild, and happens to be one of the few skilled cooks in the game.  Oh, and she's very pretty.   Asuna won't leave Kirito alone, and they're soon in a relationship.
However, the already lethal world of Aincrad is about to turn it up a notch, and there are secrets not even the beta testers know.
This manga is based on a light novel series, which has also been turned into an anime.   (One of three so far where the basic plotline is a person being unable to log out of a virtual reality game.)  It adapts the first storyline, the Aincrad world.
This version of the story trims out many minor characters, including most of the women (which makes the gender imbalance even more noticeable.)   It also has a tendency to make good characters good-looking and bad characters less so; the most prominent minor villain doesn't even look human, and remember, that's his real face.
The main villain is a real piece of work; in addition to what's already been mentioned, it turns out he's disabled another important player safety feature, but left it able to feel their pain.   (It's likely he didn't realize the full implications of this particular act, he's very low-empathy.)
This volume is mostly aimed at teenage boys; the female characters are all defined by their relationships to Kirito, and there's a sequence of Asuna in her underwear with no equivalent scene for any of the male characters.  (We also learn that it's possible to alter the "moral code" setting to allow in game sex, but it's not clear if the characters actually do this.)
Kirito is a loner with deep manpain through most of the story, though he lightens up a bit towards the end when he falls in love with Asuna.
The art is generally good, but many of the fight scenes are poorly choreographed, resulting in the manga equivalent of "shaky cam".
If you are already a Sword Art Online fan, this is a perfectly good addition to your collection.  I'd also recommend it to teenage boys who like online gaming.  Other people might want to flip through it in the library to see if the art style takes their fancy.
Update:  The sequel to Aincrad, Alfheim Online, is considered to be a severe step down from the first storyline, taking all the parts that were problematic and goosing them up, as well as managing to be much more sexist.  From the bits I have read, I strongly recommend stopping at the end of the Aincrad story and considering that the end of the series.