Book Review: Girls Research!  Amazing Tales of Female Scientists by Jennifer Phillips
Disclosure:  I received this book from a Goodreads giveaway on the premise that I would review it.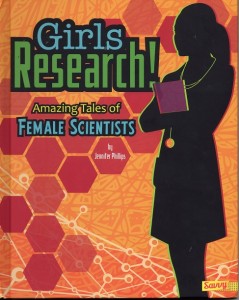 This is a part of the Girls Rock! series by Capstone Books, which presents short biographies of women and their achievements, aimed primarily at young girls.  In this book's case, the stories are about female scientists and women who made advances in science-related fields.   The introduction talks a bit about the difficulties that faced women who wanted to become scientists, and still do.  But it's emphasized that these are women who overcame those obstacles.
There's a variety of presentations, from short quarter page blurbs to two-page spreads.  Some entries have a dry recitation of facts, while others use "creative non-fiction" for the scientist to tell her story in the first person.  There are plenty of photographs, some in color.
Naturally, the usual suspects such as Marie Curie and Florence Nightingale appear, but there are also much less well known examples, such as Chien-Shiung Wu, who was a vital member of the Manhattan Project.  There's a good effort to include diversity, but the book does tend a little bit U.S./Western Europe-centric.
The obstacles faced by women who are scientists are mentioned in various stories; difficulty getting an education, getting hired, getting listened to (a couple of them had their research outright stolen!)  At least one is mentioned as having additional difficulties because she was Jewish in Mussolini's Italy.
But there are also accounts of Frances Glessner Lee, who turned her dollhouse hobby to good use in developing forensic crime investigation techniques, and Hedy Lamarr, who was a glamorous Hollywood actress when not inventing torpedo guidance systems.
The biographies are grouped by the type of science (astronomers here, primate researchers there) with an alphabetical index at the end.  There's also a timeline of when these scientists did their most important work.  My major nitpick is that the source citations are on the indicia page in tiny print, and not well-formatted.  The bibliography is short and a bit lacking; parents will need to do the heavy lifting to find more complete biographies and vet them for their children.
The book has a nice sturdy binding, suitable for elementary and middle school libraries.  While the primary audience is of course elementary school girls, boys should also find the biographical sketches interesting, and parents may find out some new things too.